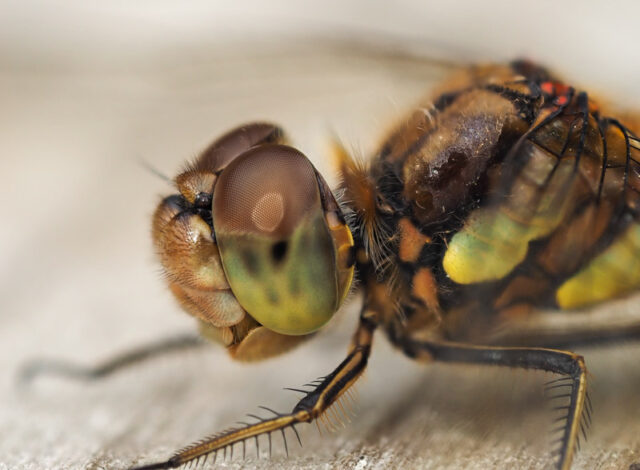 There wasn't much to say about today other than it was a good day for dragonflies.
Scamp went shopping in the afternoon, in the huff because the rain came on this morning, just after we spoke to Hazy on the phone and heard about the predicted temperature down south. 35ºc is just too hot. We were all agreed on that. Maybe it was the thought of 35ºc down south and rain here that made her go off on a shopping expedition to Tesco. I stayed home and did nothing. I'm quite good at that now.
Later in the afternoon I went for a walk in St Mo's and got today's PoD which is an ultra close-up of a Common Darter dragonfly. Beautiful beast and quite deadly to other insects. This one was quite unconcerned and waited for me to finish my thirty odd shots of it before it flew away and I went home to make the dinner.
Actually I was desperate to see how the combination of an excellent lens and a clever camera had managed to combine 11 photos of the dragonfly into one much more detailed one. It was almost perfect and all done in about ten seconds. It might be quite an old camera now, but it can certainly beat a lot of more modern ones at this stuff.
When I got home the residual heat in the air had dried the grass and Scamp wasted no time in getting the lawn mower out and giving it a short trim. Meanwhile I sat in the garden with a cafe freddo (espresso over ice) and watched the bloke next door building something. He's always building something. This one looked like a hexagonal pyramid, but we think it's a gazebo to hold his jacuzzi. Last week he had a cloth gazebo to cover it, today it's a metal framed one. Like Scamp says, it doesn't intrude in us and I suppose it gives him something to sail his boats in.
Dinner was a hybrid. We got a sourdough pizza dough last week and today we used that pre-kneaded and already part risen dough to make the base of a pizza. It worked, kind of. The pizza was ok, but a bit tough, as a lot of sourdough breads are, but it was quite doughy in the middle. I think mine are better and Scamp agrees.
Phoned the nice man in Stirling this morning and hopefully we're off there tomorrow for a test drive and to ask a few questions. Let's see what the Micra has to offer.