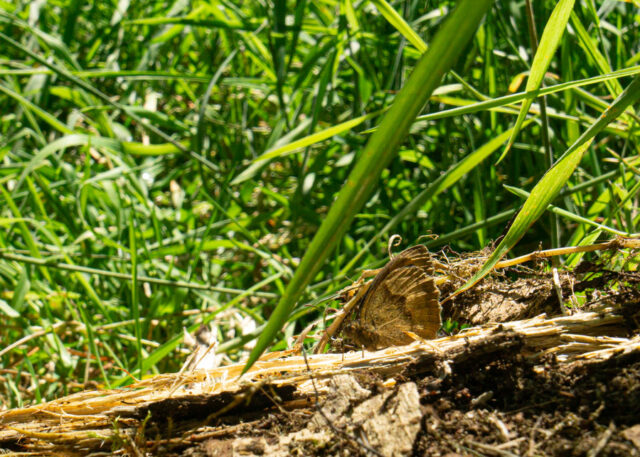 Another lovely day with wall to wall sunshine in the morning.
Scamp's suggestion for today was a walk round Broadwood with the extension through the woods. It suited me too because it meant I didn't have to drive. Just for the sake of it, we went anticlockwise as opposed to our usual clockwise walk. I didn't think there would be much to photograph and I was right. We did see a pair of crested grebes on Broadwood Loch, but they were too far away. I think it was just the feeling of being out with shorts and tee shirt in the sunshine that made the walk interesting. Also, for me, not lugging a camera and a couple of lenses, just one small camera with one lens made the walk more enjoyable. An as yet unnamed butterfly followed us on our Sunday morning walk through the woods at Broadwood, stopping occasionally, but never long enough for me to get close. Finally, I thought I knew where it had landed, but then couldn't see the insect. Purely by accident I triggered the shutter button and took a photo of a butterfly I couldn't see! Almost perfect camouflage. That photo of the butterfly became PoD.
Back home for lunch and then I volunteered to walk down to the shops to get some salad veg for dinner and a carton of milk. No wee man to offer me a Mivvi today, but after I got home I thought I should really have bought a packet of them just to stick in the freezer.
While I was out, Scamp was hacking into the blackcurrant bush and doing a great job of cutting it back while opening it out to remove all the criss cross of branches in the centre of it, Those are the ones that limit the light getting in to the bush.
I was on dinner duty today and it was quiche. It's a while since I've made quiche and I had to stick to Scamp and Jackie's quantities and techniques to get the pastry made and then the filling added. Two quiches as it happened, one with broccoli, smoked salmon and tomatoes. One with cheese and tomatoes. We ate half of each and have the other half ready for tomorrow.
After dinner we sat out in the sun for a short while before deciding to water the garden. It really needed the water with the temperature reaching 25ºc which is positively tropical for Scotland. Later when Jamie phoned, we found that they could beat us with a 31ºc, but that's becoming the norm for those in the Deep South. Who knows what the temperature was in London.
We watched an almost interesting Austrian GP with a commentator nearly bursting a blood vessel trying to make it sound like the earth shattering race it simply wasn't. Nice try, pal. Hope the blood pressure is back to normal now.
Now here's a strange thing. I just checked and the title of the blog one year ago in the 10th of July 2021 was … "Walking in the woods". Maybe I'm becoming predictable. Hope not!
Tomorrow we may go out for a drive. Not been out driving for ages.