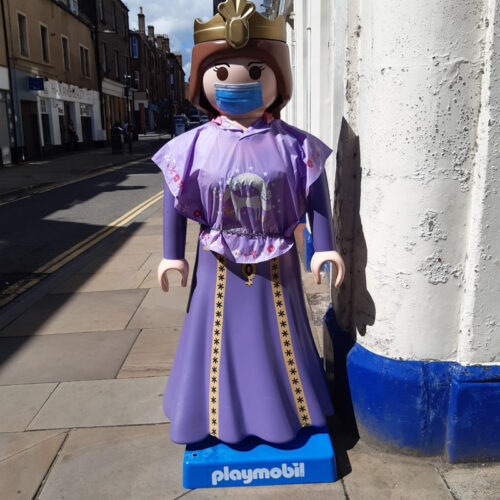 If, like me, you can't be bothered about the details of the test and just jump straight to the result, here is the test in that order.
I phoned The Man in Stirling about 4pm and confirmed that we'd like to take the "Power Blue" Nissan Micra, and if the one we'd test driven this morning was available, that would be just fine.  He agreed that the one we'd road tested was available and that the paperwork would be in our hands by Monday.  You'll note that most of our responses were in the plural.  We both liked the car and when Scamp said, after we'd road tested it: "I like it", the deal was all but sealed.  After about an hour of driving round Stirling, Scamp and I were happy with the Micra.  Scamp said she felt quite at home with it.  I was happy with it.  Maybe not as powerful as the Juke, but not as heavy on fuel either.  Lots of lovely stuff to play with and at last, a digital speedometer display on a Nissan!  Something I'd really missed when moving from the old Megane to the Juke.  Good sound from the radio courtesy of Bose speakers and less road noise, if a little more engine noise when travelling.  Overall, it's a car that we can both drive with confidence, and that's what I was looking for.  Sold!
After our stressful morning we left Stirling to drive to Perth in the Juke. It was a beautiful day for the drive up to Perth but  when we got the Fair City, we found that the carpark was now an online parking carpark run using the Ringo app.  I'd read a few scathing reviews of it and decided it wasn't for me, so promptly exited and parked across the road in a pay (using coins) carpark.  That was much better.  Maybe Ringo has improved from where it was a year or so ago, but I'll read a few reviews first. In Perth we had our second coffee in a coffee shop this week, Nero this time just to balance things out, then while Scamp went looking for trousers in M&S, I went to get some much needed coffee beans in The Bean Shop.  Nearly maxed out the £45 'touch' card limit just managing to sneak under the line.  I felt it was needed because I'd been reduced to drinking decaf coffee for a few days.  Actually 'good' decaf isn't all that bad.  Perfectly drinkable and it doesn't give you that  'Buzzzz'.  Bad decaf is just awful.  "Death before Decaf."  Never a truer word spoken, Hazy!  Scamp didn't find the trousers she was looking for and I thought I'd get my hands on the Sony camera I'd been searching for, but the bloke in the camera shop only had one which was 1p away from £1000.  I said "No Thanks".  He didn't look all that interested and didn't even try to interest me in the purchase.  Perhaps it's getting near the end of the line for small independent shops.
Drove home through the same beautiful countryside under the same beautiful blue skies.  Back home, Scamp wanted to work in the garden.  I went for a walk in St Mo's.  Lovely big blue dragonfly flying over the small pond, but not resting on anything.  Gave up on it.  Nothing else really interesting, so came home.  PoD turned out to be a pic on my phone taken in Perth outside a toy shop.  Good to see a bit of Covid-19 humour.  Dinner tonight was a salad which we ate outside in the sunshine.  Chicken and Prawn Salad.  All washed down with a glass for white.  What's not to like.
So, the car problem looks as if it's on the way to being solved and the sun was shining all day today.  It's been a good day.  Let's hope that's a sign for  the future, for everyone.