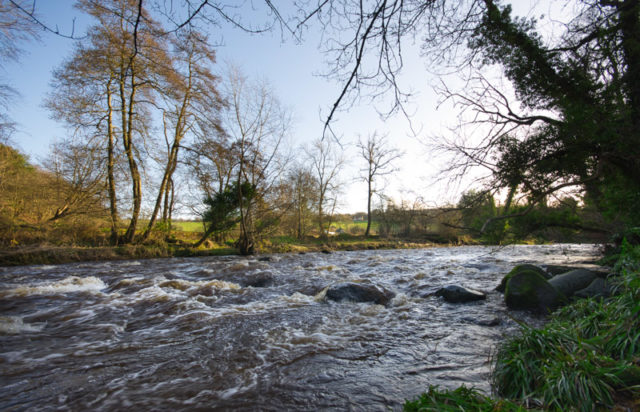 A lovely change from yesterday. The sun was shining.
OK, it only lasted for about an hour, but even as the first raindrops fell, the sky was lightening again in the west. Another day when it would be wise to go out and have a walk in the sun. Scamp's first suggestion of Muiravonside was the one that we chose. It's years and years since we've been there and according to the satnav it's only about 13 miles away.
Drove through rain and sun, but the Juke didn't seem to be in a good mood today and also the mileage was only reading about 36mpg. Maybe JIC was right about the tyre pressure being the problem. I might check it tomorrow. It was sunny when we arrived, but the wind was quite strong over in the east and it was a cold wind too. Walked around one of the easy walks and then through the farm. Just a kids farm really with lots of birds and smaller animals to see, as well as some big fat pigs, a couple of highland cattle and also a couple of horses. After that we walked down to the river and that's where I got today's PoD which is the River Avon which begins its life strangely enough near Fannyside where I was on Monday. It was the Nikon that took the photo.  I was carrying both Nikon and Oly cameras, but I was surprised at how little I remembered about setting up the Nikon.  I couldn't even remember the shortcut to format the disk.  Must be getting too used to the little Oly and Pana cameras that make everything so easy. On the way to the river we passed a load of apple trees growing beside the path, each one with its own little name plate on a wooden post beside it. Scamp was quite pleased to see a James Grieve. It was a bit younger and straighter than ours. Hope it fruits as well as ours. It was a steep path down to the river, but we didn't really notice until we had to climb back up again. We were a bit out of breath after the climb.
Drove back and I thought I might have a chance of a photo or two in St Mo's after a late lunch, but the clouds rolled in in earnest and the rain started again, so I left it for another day and went to collect my pills instead.
An email has just come in as I'm writing this to say that I've been fully reimbursed for the purchase of ON1 2020.  That was much quicker than I expected.  In the morning, I'll check if the money is in the bank.
I think we're both agreed we'll go back to Muiravonside again, all being well. Tomorrow looks clear and cold again with just the chance of some showers, so with a bit of luck and good timing we may manage another walk in the sunshine.