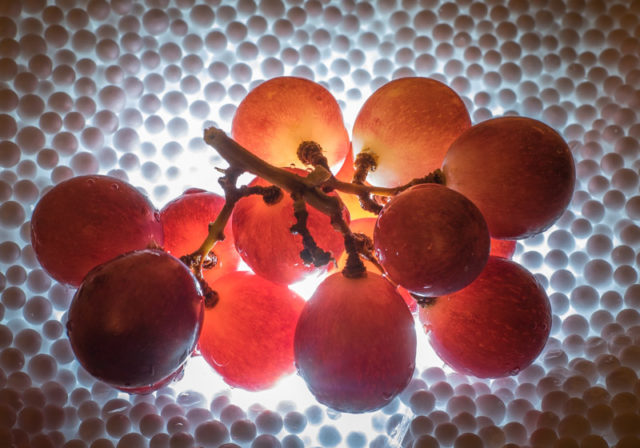 I thought I'd woken up in the middle of the night and then notice it was about 8.15am and it was dark outside.
It stayed like that all day with only about 30 minutes in the middle of the day when there was light on the horizon, but it didn't last. Scamp wanted to go shopping today and that's what we did. Because the only place she knew she could get some of today's messages was Morrisons, and in an attempt to offset the shortfall in their winter sales figures, that's where we were going. Next question was where. Falkirk is our usual preferred shop, but with the strong winds, especially in the east and the heavy rain showers, I suggested we go to The Fort instead. Closer and quicker to get to. Also, I wanted some stuff from Hobbycraft at The Fort. With that settled, we wrapped up well and drove off. It may have been stormy and wet, but it was also warm. The car thermometer read 12ºc when we left the house.
So we got what we wanted in Morrisons, except the bottle of Grants Sherry Casked which was absent from the shelves and also the Yorkshire Mixture which was also missing. Could it be the same person who had a taste for sweeties and whisky? Did they perhaps drop a couple of sweeties in their dram? Maybe I should try that. We bought a bag of polystyrene beads for me to make a bean bag to rest my camera on when taking low macro shots (they came in handy later). We also bought some sparkly foam backed card to make The Fairy a new pair of wings. Scamp is going to wash The Fairy's dress, make her a new underskirt and also repair her wings. The Fairy is almost 50 years old and hasn't had her dress cleaned or her underskirt replaced in all that time. Her wings have been repaired once or twice, but really do need to be renewed. Happy with our purchases we headed home.
Scamp went out to get her hair cut after lunch and came back looking even more beautiful than normal (if that's possible). Then I discovered I needed spring onions for tonight's dinner (Pad Thai), so I wrapped up well, stuck in a pair of headphones and enjoyed a walk in the rain with The Uncle Devil Show to get the spring onions. That's when I noticed my thighs were aching a bit, presumably from the two days dancing I'd had Sunday and Monday.
The Pad Thai worked really well. It was from a kit, but the only pre-prepared ingredient was the sauce, I'm sure I can find a recipe for it on the net and make my own. Noodles make a nice change from rice. After that I had to find a PoD. I found it in the bag of polystyrene beads. I sat a bunch of grapes on the bag of polystyrene beads. Lit it from below with two LED lights. Then used reflected light from a third LED light to remove some of the shadows from the grapes. PoD done.
Before I wrote this blog I cancelled my upgrade to ON1 2020. Too many bugs in it that would be caught, quote 'in a future update'. Sorry, but I paid for software, not to be a beta tester.
Tomorrow I may tackle the making of the bean bag. Also, we may go out somewhere for a walk if there's any light and if the wind abates.