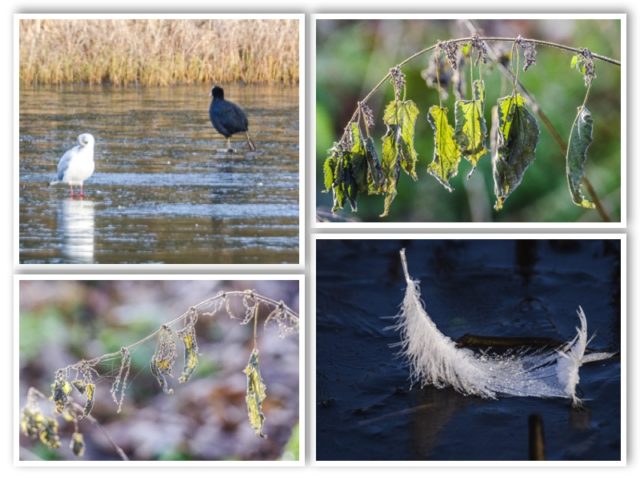 Woke this morning to sub-zero temperatures, ok it was -0.7º, but it was below zero and that counts.
By the time I got up and showered, the temp had risen to just above zero and it was brightening up nicely, so I wrapped up warm and grabbed the Nikon to go get some photos of the urban deer.  It was a good plan,  the only thing missing was the aforementioned deer.  They weren't to be seen.  Imagine that, they were up and out before me!  Amazing.  Got some photos of some backlit weeds – backlighting is always good in the low winter sun.  When we were in Glasgow yesterday, I was sort of admiring some photos by a photog who was using 00 gauge figures in a variety of situations.  'Sort of' because I wasn't impressed with the actual photos which were unremarkable, but I'd forgotten about my own attempts with these tiny figures.  I kept seeing situations this morning where I could pose my mini-men.  I'm intending digging them out tonight and having a go at some mini-men scenarios tomorrow when I have the house to myself.
Photos turned out better than I'd hoped.  I think my favourite was the skating Coot.  It reminded me of the painting "Revd Dr Robert Walker (1755 – 1808) Skating on Duddingston Loch" by Sir Henry Raeburn (Google it).  It doesn't really look like it, it just reminds me of it.  That was my favourite, but PoD goes to the frozen feather.
This afternoon when Gems were doing their singing practise I went to the gym and the pool for an hour or so.  It was a very pleasant hour or so too.  Sauna wasn't all that hot, but the steam room was.  Even managed a few lengths.
Kizomba tonight was the end of the road for me.  I've taken as much as I can take of assistant teacher, Levis's Mr Cool antics.  Yes, he's quite stylish, but when the class has just managed to achieve even numbers because Kaye, the teacher, is dancing, that is not the time for Mr Cool to cut in and push a paying customer, me, out to be a wallflower.  I don't like being the wallflower and I don't do it quietly now.  That's why I made a fuss tonight and complained to his boss about his attitude.  I also told her that was the reason I wasn't coming back.  It did seem to cause a bit of a kerfuffle and an extended discussion with Shannon under whose auspices the class runs.  It also forced Levis to come and apologise to me although he didn't seem to understand why.  It made no difference to me.  That was my last Kizomba class with them.  Maybe I'm just a silly old man to him.  He'll find out I'm a vociferous and angry old man too.  I feel sorry for Scamp, because she was enjoying the class.  I wasn't and I'd already told her I would give it until Christmas and then evaluate the situation.
The foregoing left a bit of a bad taste in my mouth, but it had to be resolved.  There's no point in complaining to Scamp and shouting the odds.  Better to get these things out in the open then, maybe they will learn from their mistakes.  Salsa took the bad taste away and with three new moves to remember and Jamie Gal's inevitable tall stories , it didn't take long to put a smile back on my face.
Tomorrow is another day and it's going to be a painting day, I think.  Well, that and a trip into Glasgow to retrieve Scamp's boots that she left at the STUC tonight!