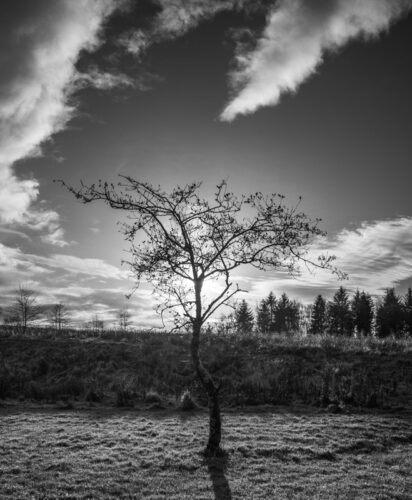 I learned the word 'Tid' when we were down in Newton Stewart. It sort of mean 'state' and I've only heard it in a positive setting.
So, today my head was in a better place, that's what I was saying. Number one, I had a good sleep and a long one too. Woke fairly refreshed. Secondly, the problem with the NAS drive had resolved itself. Yesterday after the electrician plugged in the hub for the Hive, my NAS changed its IP address and nothing I did would get it back again. Today, I think, the OS had taken a long hard look and consulted its DNS spreadsheet and discovered the new address for the NAS (I apologise if that's too many UPPER case abbreviations, JIC). Whatever happened, the NAS was online again.
A possible third reason was that our Hive controlled lightbulb arrived and we could play with it. Scamp was the first one to get it installed on her phone, but couldn't quite remember how she did it. Then my phone registered it too. We had some fun switching it on and off, brightening it and dulling it, and then it was lunch time. Simple things and simple minds!
After lunch I chose to go out for a walk and a rainstorm was just waiting for me to walk about half a mile before dumping on me. I walked to the butchers and waited in the queue which went down quite quickly until some dimwit wanted a whole lamb rack French dressed, and then said she wanted them cut into individual chops. All the while she was chatting up the butcher. Eventually the women who work in the shop could see their wet customers considering leaving and decided they could allow two people in the shop as long as they were socially distant. When the dimwit entered the shop there were two of us waiting outside, when I left there were about nine wet, disgruntled shoppers. Some people just don't care about others.
Came back home via St Mo's and as the weather had brightened up considerably, I got some photos in the sunshine for a change. My favourite, and PoD was the tree.
I wasn't long home when my parcel arrived from Amazon with its autofocus adapter to allow some of my old Nikon lenses to work seamlessly with the Sony A7. I was pleasantly surprised to find that two out of three worked completely. One didn't quite cover all the bases, but enough to make it a worthwhile investment.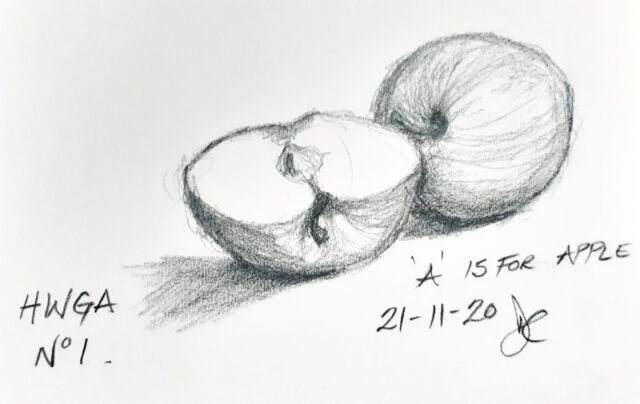 Nick the Chick (no, I wouldn't risk calling her that to her face!) put a large swathe of Scotland into Level 4 on Friday, yesterday. Unluckily for me, I'm in Level 4 of the Scottish Covid prevention scheme. It's not total lockdown, but it's fairly close to it. With that in mind I decided I'd start sketching again. Initially it will be alphabetical subjects.
Today it starts with 'A' is for Apple.
Tomorrow may be a case of sunshine and showers, but we can survive that. We may go for a walk.