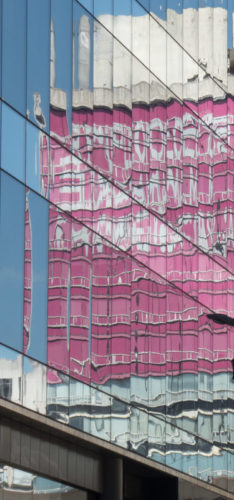 A girl cutting hair? It's a barbers, not a hairdresser's!
We were all set to go to the dancin' today at Blackfriars until Scamp got a message to say that it was cancelled. That gave us a fair bit of the afternoon to fill. I wanted my hair cut, Scamp wanted to go shopping, not for shopping. Not going for the messages. This was serious shopping. I also wanted to go shopping for a couple of books. With all that in our collective heads, it seemed a visit to Glasgow was in order, but a visit on the bus this time, not a drive. It was a really hot day, so we also decided to have lunch out and make a day of it. So that's what we did.
First stop the barbers. My usual place, the Nile Barbers, but what was this? None of the usual faces. One guy and a girl. A girl in Nile Barbers? Never seen that before. However, she cut my hair exactly how I wanted it and only asked for £7, pensioners rates. Then one of the usual barbers returned. Ah, that's good. It's not a total take-over. I can rest easy knowing that the everybody's getting older guy and the conspiracy theorist have not been sacked, and that Silent Bob will be back in his corner cutting hair without a word.
Back up on to Sausageroll street and having to go round the part demolished New City Palace to get to Waterstones where I bought the final book in the Themis Files trilogy. I just finished the second book in the series this morning and it's some measure of the attraction of the writing that I went out this afternoon to buy the sequel. Book two in a trilogy is so often just treading water and going nowhere, but this book took the story on a completely different direction and led neatly to the final(?) book. The question mark is there because I've read on the net that it might not be the final book. That would perhaps be a shame. I'd like to see the story drawn neatly to a close, whatever that is. I'm keeping the book for the holidays. That will leave a decent amount of time for my brain to work on the implications of book two and prepare for the finale. If you haven't read the series, I really recommend that you do. I won't give away the plot or the twists. All I'm saying is read it. It's SF, but does the 'F' stand for Fiction or Fact? You choose.
Met Scamp who had done the shopping she intended to do and was loaded down with bags. We went to lunch in Paesano – best pizza place in Glasgow. Unfortunately, Scamp reminded me that although we'd gone in by bus, I was driving Fred and me to the college tonight, so Nick the Chick says "No alcohol shall pass thy lips on pain of five thousand penalty points and a £50,000,000 fine (plus VAT)." So I had fizzy orange instead 🙁
Walked round to Queen Street for coffee in Nero and it was while walking round I got today's PoD.  It's a reflection of the College of Building and Printing reflected in my favourite glass fronted building in Queen Street.  I liked the distorted writing that should read "People Make Glasgow".  Title was Lost in Translation.
Bus back and soon it was time to go for Fred. We'd an older sitter than last week and I think I managed to do him justice. Like he said, everyone's interpretation is different. Roseanne (tutor) tried to rile me with a few digs about people criticising the Loomis method, but I gave as good as I got. She tried her best to blank me when doing her rounds, but eventually gave me a few words of wisdom. I took her advice and the second sketch once the sitter had had a rest was a lot better and from a totally different viewpoint.
Tomorrow is to be at least as hot as today. We have no plans as yet.