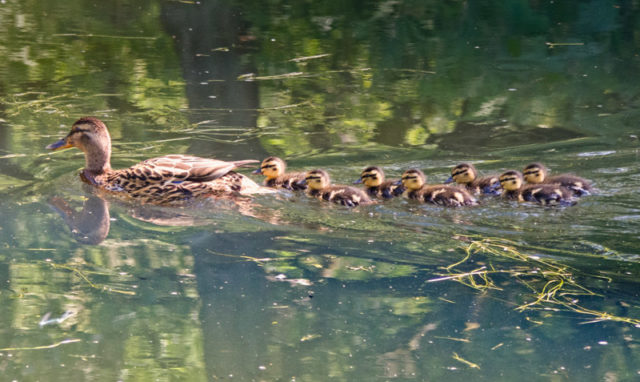 It started out a bit cloudy today, but the sun soon burned that away.
We had nothing particular to do today and nowhere significant to go. Some days are like that, you can just relax. However, with a garden there's little time to relax and soon we were shifting flower pots around and then we went to buy more. It seems that flower pots are like shoes, you can never have enough of them. I also suggested to Scamp that it might be a good idea to put a layer of chipped bark on the earth, especially in the pots. It acts as a deterrent to snails, discourages weed growth and helps retain moisture. So we came back with another pot and a bag of chipped bark. While Scamp did the re-potting, I helped out with the layer of bark. It certainly gives a good universal appearance to the pots and looks as if it will fulfil the other tasks too. Only time will tell.
After lunch I was encouraged to start the frame for the pea netting, so off I went to B&Q to get some wood. I used to have a regular supply of it, but alas and alack, I am no longer employed in that side of things 😉 so I had to buy some. I asked if I could borrow a saw to cut the timber to more manageable lengths but was told that service was no longer available because of H&S regulations. I suppose that's true. Pity the trolley that kept giving me shocks in B&M this morning hadn't been GS23'd or run past H&S. Scamp says it's me that's generating my own electricity and that it's me that's creating the sparks. Some folk say I'm a bright spark, but they're lying.
Anyway, the 2.4m of timber fitted easily into the Juke and I dropped it off at home before going for a walk along the canal under a hot sun. Saw today's PoD there and couldn't resist it. It took a bit of processing in Lightroom then ON1 to get it the way I wanted it, after the camera overexposed it, but I liked the result.
Came home via Lidl to try out their supposedly excellent gin. It is excellent and to our taste test, better than the watery Aldi alternative. Maybe it's just the different tonic.
Halfway through dinner (Paella) the rain came on, so we had to rush out to save the washing from drowning, or at least getting wet. It didn't last long, it was really just a shower, but it did mean we didn't have to water the garden tonight!
Tomorrow looks not as hot as today. I think it's all going to get a bit tricky from here on in. I think I'm constructing a pea frame, so a bit cooler day will be good.