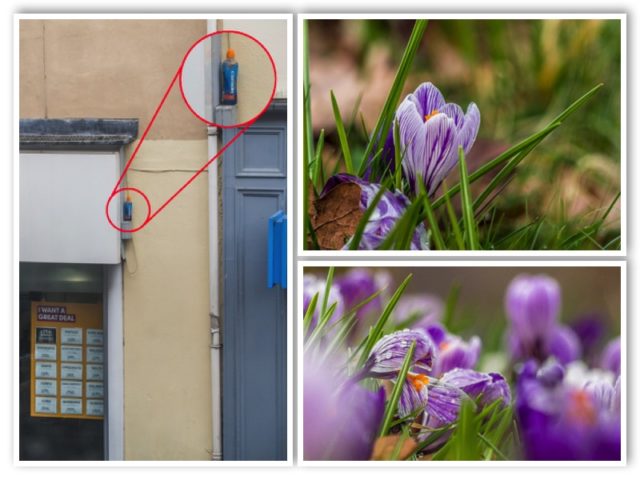 It was Scamp's idea.  We had booked lunch at Cafe Tabou in Perth.  How about, she said, How about getting the train instead of driving there?  It sounded like a good idea, a great idea.  I added to it.  Why don't we get a taxi to the station?  You can never get parked on a Tuesday, Wednesday or Thursday.  Mondays and Fridays aren't too bad.  So it was settled.  A day in Perth without driving and without the drudgery of travelling on the bus.
The journey was really good.  Taxi to the station, train to Stirling, quick connection to Perth.  Brilliant.  Visited my favourite second-hand bookshop and then a quick visit to Waterstones.  One of my favourite Scottish authors, James Oswald was there talking to a readers group.  I don't do readers groups, neither do I read the 'Questions to the author' at the back of a good book.  If the author didn't explain everything in his book, either he wanted it that way or else he wasn't such a great writer after all.  Either way, questions aren't going to provide the answers you want.  Went for coffee in Nero before we went for a walk through the park.  Then more coffee – beans this time in The Bean Shop.  Finally, it was lunch time.  Mine was Venison Stovies, then Saddle of Rabbit stuffed with Pork and Chorizo <Posh Word meaning Sausage> served with Roasted Root Vegetables and Sliced Potatoes washed down with a couple of glasses of Rose D' Anjou.  Simply delicious.
After lunch I returned to Waterstones and used up my Christmas present from Scamp.  I turned out that James Oswald was promoting his new book so I decided to buy it, along with another two 'real' books.  Time to get used to books that don't self illuminate or automatically remember your page or even provide a dictionary, but 'real books' are a great idea.  I think they'll catch on.
The return journey was equally as good as the one this morning with nicely timed connections.  Even the wait for the taxi was minimal.  A great day out.
Today's flower photos came from the park at Perth and the bottle pic?  It came from Cafe Nero's window.  Like I said on my Flickr description, I wondered How?  I also wondered Who?  I finally wondered Why?
Tomorrow?  I think we might be getting in training properly as we return to the gym.