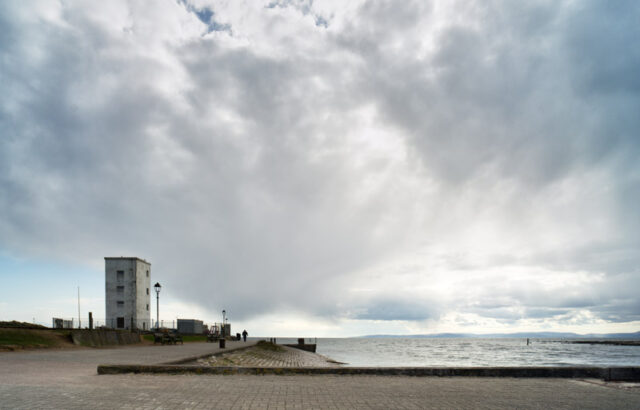 Driving down to Irvine, but not to the seaside, well not right away.
In the morning Scamp was off to the hairdresser. I was just messing about, checking the fennel seeds I'd planted last week and they were shooting up! Then I gave the rosemary in the garden a feed of Miracle Grow. I'd to make up a gallon and I finished off the can by feeding the kale and peas in the raised bed, then sprinkled the rest on random flower pots in the garden.
By the time Scamp returned with her hair carefully coiffed it was time to get ready for Peter's party. The party was in Irvine and it would take us the best part of an hour to get there. Of course, that would only happen if I stuck to the route the sat nav gave me and didn't find myself on a slip road leading to a traffic jam caused by road repairs on a bank holiday weekend. After a lengthy delay and failing to avoid potholes, we finally got back on the right road and arrived at Peter and Gillian's earlier than the other couple who were also in our slot.
The party was a relaxed affair with copious amounts of food, some of which we took home with us as did the other couple. She was fine. She (can't remember her name) was a cancer nurse who explained what the real truths are about numbers of patients during the pandemic. The number of patients seeking and getting treatment had increased which is in direct contrast to the story the BBC are putting about. But as always with news, good news doesn't sell newspapers. Or increase ratings, it would seem. He was a bit of a pain. An architect, which set my teeth on edge right away. Architects are always known to the draughtsmen as "… that fuc*ing architect …". Apparently he was a comic too with lots of really funny stories, well, he thought they were funny anyway. Oh yes and they were always accompanied with funny noises. Oh what fun he was.
Actually the time passed quite quickly and although there was a cold wind blowing, it wasn't really too bad sitting in the garden under a gazebo. Peter's story of their night of Prosecco at a hotel on the Royal Mile WAS funny. A hotel with a Prosecco button you could press and a waiter appeared with two glasses of fizz! Now that sounds like fun. Fred gave me a Beer Button for my birthday once, but it didn't work as well as Peter's!
I could see Scamp wanting to go for a walk in their garden which was, shall we say, extensive. Gillian didn't quite explain how far it extended, but they have a sit-on Husqvarna lawnmower to cut the grass. That should give you an idea of the size we're talking about.
When we left, Stewart and Jane were arriving for the second session of the day. More food, more cakes and more Prosecco would be brought for them too.
When we left, we drove to Irvine harbour for a walk. It was cold and we could see the rain clouds blowing in from the direction of Arran. It was a short walk and Scamp wasn't shod for the rough paths, so after a few photos, we headed home following directions this time. PoD went to a picture of the harbour with a bloke hurrying home ahead of the coming rain.
I do have a painting done for EDiM it's two apples. I'll post it tomorrow. Too late tonight to do that.
Tomorrow we may go for a walk. Day two's painting will hopefully be Bananas. Do you see a pattern forming? 'E' is the hard one!