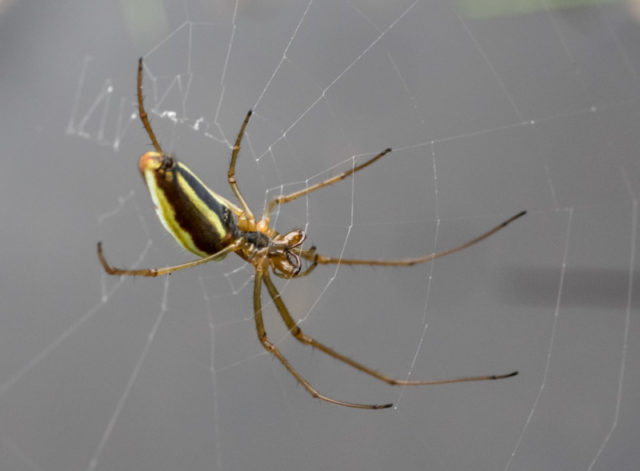 It didn't rain all day, but when it did, you knew about it!
Didn't do much this morning. It was just one of those days. I ordered another camera strap from the Cordweaver bloke. He makes such a neat job of them, it's simply not worth your time learning to weave the paracord.
In the afternoon I dragged myself out for a walk with the E-M1 to see if there were any beasties out looking for a photog to take their foties. They found me. Spiders were the prey today and some scary ones too. The yellow and black striped one was looking decidedly scary, but then black and yellow are the warning colours in nature aren't they? Wasted lots of shots today trying things that would never work, but it's just part of the learning curve with a new camera. I really need to catalog what the four storage areas are holding in terms of camera settings. I know what they do, but I need to use a spreadsheet to save the details of HOW they do it.
Drove in to Glasgow to Salsa through some really torrential rain. It didn't last long, but it certainly was heavy. Even with the wipers on double speed they were struggling to clear the deluge. Salsa with the beginners class was interesting and fairly easy, but the advanced class were few in number and unlike last Wednesday, especially few in men. Jamie actually cajoled Megan and Andrew to join in as leaders. Last week's twisty turny move got a new name: Boda. And of course there was a new, new one which hasn't got a name yet. The advanced class is becoming a bit stale. New moves that very few people will dance at socials and too many new moves for my poor wee brain to retain. Maybe we just need a holiday in the sun. Yes, that would be nice.
Lightroom is being a bugger again. Forgetting where to put photos and forgetting which are its default settings. Tonight I reset the .plist and that helped a bit, but didn't fix all the problems. It actually caused a few more problems! Most are fixed now, but since the main reason I use Lightroom is to catalog my photos, if it doesn't do the cataloguing, then it's not really much use. I'll go search the InterWeb for a solution tomorrow. That's what I did last time and I fixed it, so a solution is out there, I just have to fix it.
Tomorrow I have to sort June's birthday prezzy and then it's coffee with the boys.