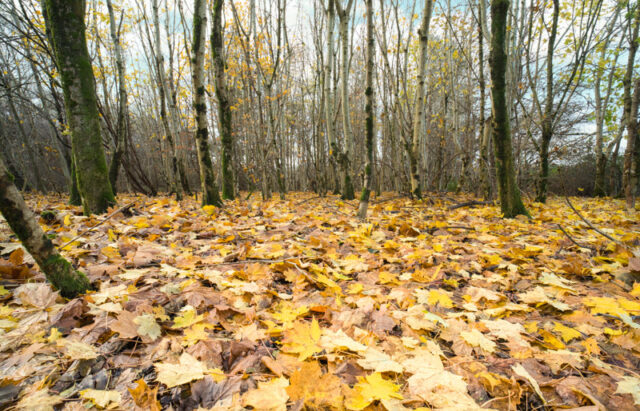 Too many of our days are spoilt by reading in bed.
Today the light was good, so after breakfast I got up, dressed and took my camera out for a walk. Yesterday, on the way back from our walk I saw a little clearing in the woods beside Broadwood Loch, covered with golden brown sycamore leaves. That was my target for today. When I got there the clouds had already rolled in and it didn't look as if I was going to get a chance to take the photo. But I was there with a camera and I wasn't going home until I had at least one shot in the bag, and this time it would be in focus. I got quite a few shots looking in both east and west directions. I walked round the boardwalk after that took a few shots of the padlocks rusting together on the square link fence. No great sky, no directional light. I don't know if there would really have been any because at about 9.30am the sun wouldn't have risen much and the area I was in would have been in shadow anyway. That was about it for photography. I really need to put that little battery powered light in my bag to give me some portable directional light.
Back home the shots looked ok. Not great, just ok. The main problem apart from a lack of shadows was the white sky behind the trees. Luminar 4 is a great bit of software for adding interesting skies to bland landscapes and it came to the rescue with today's PoD.
Time to get ready for lunch. Today we were booked for lunch with Crawford and Nancy at The Cotton House in Longcroft. Lovely lunch and a great laugh with the other pair. My Salt and Chilli Chicken with noodles is fast becoming my go-to standard for Chinese / Thai food. Scamp has gone back to the old favourite of Chicken Chow Mein.
When we came out, Nancy had a Christmas parcel for Scamp (a bit early, but who's counting) and Crawford presented me with a bottle of Glenmorangie as a belated birthday prezzy. I was flabbergasted. I totally hadn't expected that. We did elbow bumps and left for our respective homes.
The weather was closing in as we neared Cumbersheugh so we waited a while before walking down to the shops for staples which this time included iced buns, chocolate and pancakes. Only the iced buns and the pancakes have been sampled, the chocolate is hiding in the fridge.
The golden leaves and the subtly added sky finished off the PoD and I was happy with it. Must try out PhotoPills on the iPhone to find out if I can indeed get light onto those trees on Thursday, because tomorrow and Wednesday are definitely out with heavy rain both days.
Doesn't look like we'll be going far tomorrow.