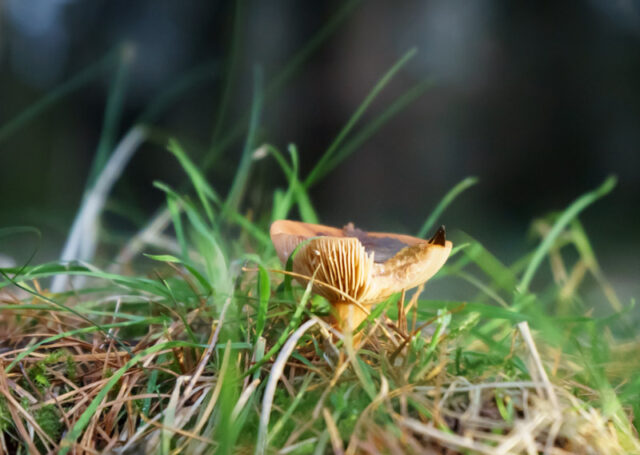 The fog was there when we woke this morning and it stayed all day
One of those days where there wasn't much to encourage us to go out. Although it wasn't cold, it felt damp and uncomfortable. Although I managed to do my '8 active hours' according to the Fitbit, I couldn't tell you how I achieved them. It felt like a day of sitting around.
It wasn't until late in the afternoon that I managed to shift myself enough to go out to get some photos. I walked over to St Mo's looking for some macro subjects to ignite my interest. The subjects were there, but I really needed the light to be better. More light would help and some of it needed to be directional. I had hopes that there might be some late sunshine when the clouds parted slightly to expose a tiny sliver of blue sky. However the tear in the clouds soon healed again and the sun was lost for another day. I found a small toadstool growing on the edge of the pine woods and tried unsuccessfully to get a decent, sharp image of it. That's when I switched my phone on and used its torch to give me that directional light. It worked and I had my PoD.
Also on my phone came the news that North Lanarkshire was to remain in level 3 of the restrictions after threats that we'd be elevated to level 4 which is basically full lockdown again. Skye, on the other hand were downgraded to level 1 which gives them a bit more freedom. Back home Scamp was talking to Jackie in Skye and congratulating her on her freedom.
She, Scamp, had been to Condorrat while I was out and had bumped into Chris Davies' mum again. Hadn't seen her for years and then bumped into her twice in a week. Sometimes life's like that.
It was Scamp's turn to make dinner and tonight I got to choose between two different offerings. I chose Kedgeree and it was a great choice and a great dinner. Tasty and just nicely curry flavoured.
Today may have been dull, but tomorrow will be wet, WET, WET. Not a Scottish rock band from the '80s. More a Scottish weather pattern. We may go out, just to get away from the house for a while.