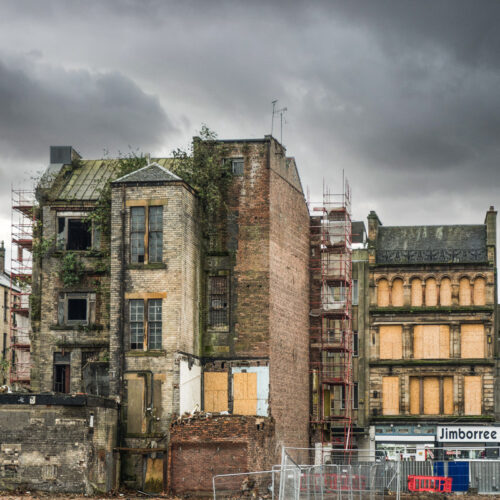 We couldn't decide what to do today, but settled on Glasgow as the best option as it was dull and looked like rain was on the way.
Scamp wanted to look for a new coat. I wanted a couple of new sketch books. Scamp had also noticed an advert for a pop-up shop selling Harris Gin at Cafe Gandolfi so, three birds with one stone.
First stop was JL to see if they had any coats Scamp would be seen wearing. They hadn't. I looked at a few lenses, but none I would consider buying either. She also looked at a duvet cover she's fancied for a long time, but they didn't have it in the right size. Further down Buchanan Galleries was Next, but none of the coats there took her fancy either. It was beginning to look like a waste of a day.
We walked down to CassArt and I did get the two sketch books I wanted. Next on the list was M&S for a coat. They had lots. Red ones, white ones and blue ones. I was beginning to think it was the Rangers Shop we'd staggered into. Eventually, after trying, rejecting and re-trying various styles, some with furry collars, some without, she finally settled on a blue one with removable furry collar. I got a jersey to replace the one I'm wearing as I type this. The one I got doesn't have an oil stain on the front, but I'll soon fix that!
We were on a roll. Walked on to Cafe Gandolfi and found the shop, conveniently situated where the bar used to be. Now that almost all bars in Scotland are closed, it made a good use of the space. Got the gin, time for a coffee.
This is where it all falls down. We went to Cafe Nero. Usually seriously good coffee. Not now. Two shots of coffee in one of the big cardboard buckets that hold about 500ml then topped up with about 400ml of hot water. Worse still I had what I thought was a Pigs in Blankets toastie while Scamp had her usual latte and a tuna melt. I hadn't noticed the word 'Swill' between 'Pigs' and 'in'. A slippery slimy couple of doorsteps of bread that did actually taste like blankets, or what I imagine blankets taste like, sandwiched between was the pig swill filling with one sausage and a couple of chewy bits of bacon. If you get the chance, avoid Pig Swill in Blanket like the plague, or it's very likely that's what you'll get. Bubonic on a plate. I may use this paragraph as my email to Cafe Nero.
Drove back home through the gathering gloom, and the rain that had been threatening all day.  However, I was fairly sure I had a PoD in the bag, and I was right. It's the rear of an old building on Trongate.  An example of the less publicised Glasgow architecture.
Tomorrow looks like a better day than today. We may manage a walk.