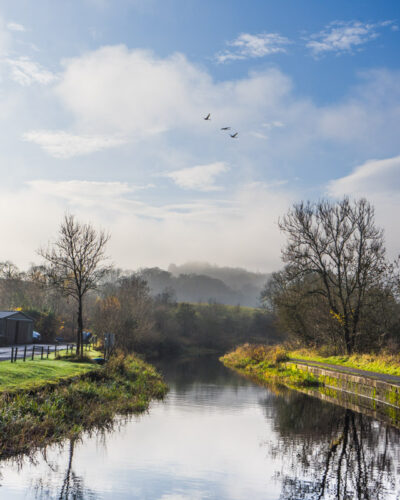 Today dawned a bright day. Too good to stay in.
By 11am we were walking along past what was The Hebo House restaurant until they fixed the sign. Anyway we were walking past it and up on to the towpath of the Forth & Clyde canal. The view along the canal with Barr Hill in the distance covered by low cloud or mist, I'm not sure which was too good to miss, so I grabbed the chance to take a few photos. Then I heard the unmistakable sound of swans flying overhead and waited a second or two to grab one shot of a trio of swans flying over. Just a pity I didn't get their reflection in the canal.
We walked on down to the old railway line path from Auchinstarry to Twechar. It appears that the work on upgrading the paths is ongoing and will be so until mid December. We crossed over at the plantation and back up onto the canal towpath again from there we walked back to Auchinstarry and the car which was patiently waiting for us. On the way back we noticed someone had formed a wee flower and a heart from copper wire and mounted it on a tree stump. It looked really good sitting there in the sun and I grabbed a shot or two of it. By the time we got home the light was disappearing and the mist was coming down.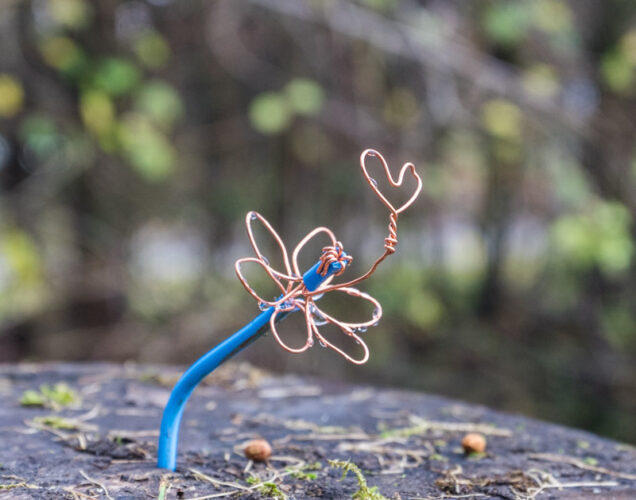 Not satisfied with the photos I'd taken, although they looked good on the 'puter, I went out for a walk in the afternoon to see if St Mo's had anything to offer. I think I left it too long. The mist and clouds were now obliterating the sun and destroying any decent light, so I was struggling to get anything decent. I did try a few shots of spiders on the whin bushes, but they were too small in the frame and difficult to focus on, so I gave up. The PoD would be the canal with the flypast of the swans, with second prize going to the wee flower sculpture.
We had booked a WhatsApp video call with an agent from Scottish Gas to give us a quote for a new boiler. In these Covid days it seems that visual visits are the way things are being done. When he phoned to confirm he asked if it would be ok to use new software they were trialling instead of WhatsApp and we agreed. After a false start we got connected and he took us through the areas he needed to photograph to get the information to build the quote. About fifteen minutes later he called back with the quote and then emailed the details to us. An interesting and useful exercise. Now we need to get a comparative quote from a local gas fitter.
Watched a Nigella recipe programme tonight where she made a curry whose main constituent parts were cauliflower and chopped up banana skins. I'm not sure I'm ready for that yet.
No plans as yet for tomorrow, although weather looks a bit like today.