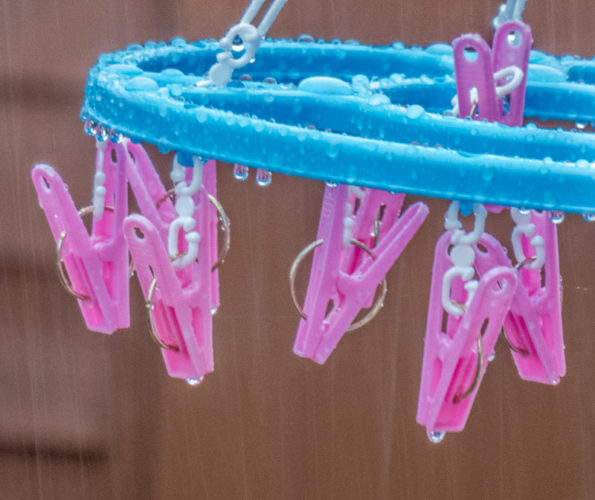 It started off just dull, then the rain came.
It was a dull, dreich morning, but there were a few brighter periods. We'd bought some large bamboo canes to increase the height of the sweet pea frame and today we just got it built when the rain came. It forgot to go away again. Actually it did dry up for a wee while, but not long enough to entice me out.
What I did do was try to fix Scamp's computer which has developed a memory problem, but nothing serious. I'd pulled the memory board out of the seating and then pushed it back in. It's a simple thing that usually works. It didn't. I remember Val telling me once that if the computer appears to start but there is no display, then memory is the problem and that is what was happening.  It had gone from a minor problem to an absolute disaster. I had taken the usual precautions.  I had earthed myself before I touched the memory module and even made sure I didn't move my feet on the carpet in case I generated a static charge that if transferred to the chips on the memory board would fry them. I took a deep breath and told Scamp "I might have blown the computer." To her praise, she just said "Ok. What do you want me to do? Shouting at you won't do any good." I took it apart again and nearly made the fatal mistake of removing the memory with the battery still attached! After plugging the memory module in again, it powered up. Thank goodness. Now, looking back, I think either a tiny bit of dust had found its way into the memory slot and it was preventing a proper connection or I simply hadn't seated it properly. Anyway, it lived to fight another day … and so did I. It's still not fixed. It may need a new memory board, because it's losing its memory, but it is no worse than it was yesterday.
I finally decided that I wasn't going to get a walk outside today and took a few shots from the back door. Next door's washing line made today's PoD. The highlight of today was roast chicken with potatoes and cabbage. Lovely!  I made some bread but it was too late for dinner, so we'll enjoy it tomorrow.
It was a poor day for photography today and it looks as if we get to do it all again tomorrow.