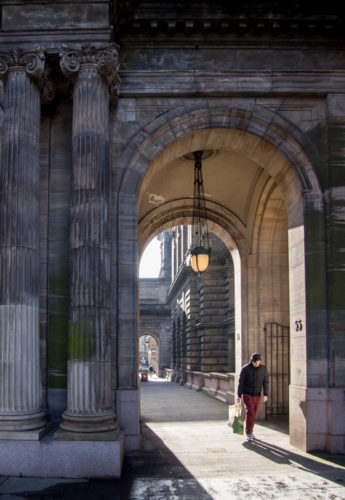 Well, not actually in The Barras, because they're only open on a Saturday and Sunday and today is Wednesday. Maybe "in the vicinity of The Barras would be better". Yes, that will do nicely.
Before any lunch could be partaken of, there was some dancing to do, and as we were a bit early getting to Blackfriars, we had a little drink first. Half a pint of Orkney stout for me and a ginger bee 'n' lime for Scamp. It's ok, we were travelling by bus today because we had agreed that 'drink would be taken' at some point in the day.
After our refreshment, we went downstairs to the dance class. Gary and Frieda weren't coming today, so it was just us, Graham and Isobel and the two beginner girls. We're no longer beginners, we're 'improvers', and the Isobel in question isn't Scamp's auntie. Nothing like her.
Today's jive was a reprise of the Step Over. We'd kind of forgotten it. Well, we remembered the basic move, it was just the little "John Wayne dance steps" as Tom Paxton called them, that we'd forgotten. Waltz was the usual round of getting it right first time then not being able to get back to those heady heights. A smidgen of Quickstep with Fishtails and Running Steps added in for good measure.
It was a short walk to The Barras and the A'Challtainn restaurant. Scamp opted for the Scallops with Yuzu followed by Stone Bass on Black Rice Risotto My starter was Mackerel two ways – Escabeche and Tartare. My main was Baked Loin of Cod Celeriac puree, Broadbean & Bacon salsa, Chicken jus. All the foregoing washed down with a nice dark Merlot. Just as good a meal as the last one and a great way to celebrate our the anniversary of the day we met, forty eight years ago. The meal was certainly worth the price of the Itison voucher, but a bit steep if you have to pay the full asking price.
We walked back up the town, had a cup of coffee and shared a slice of cappuccino cake in Nero and caught the X3 home.
We watched half of Ant Man tonight with a small libation to take away the pain of the ridiculous plot, and as you've probably guessed, I posted the PoD which was taken through the arches at Glasgow City Chambers and left the blog until today (Thursday).
On Thursday we will tackle the electricity cupboard.