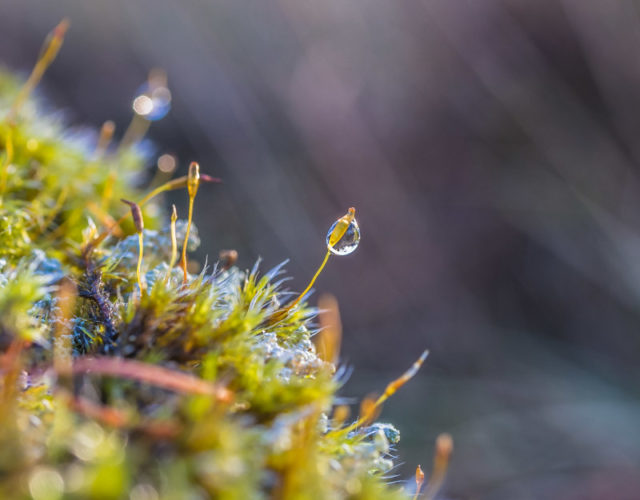 Well, the predicted snow didn't come to much. A few millimetres of manky grey sludge doesn't constitute a snowfall.
I offered to do the shopping and returned with plain bread, milk and a dozen eggs. All will become clear.
I mixed two of the eggs with some special 00 flour that Scamp had bought last week and then kneaded the resulting mess for the required 10 minutes, wrapped it in cling film and let it cool its heels in the fridge for an hour or two, or three or five as it turned out.
We'd intended cleaning out a cupboard today, but it was a lovely bright cold day although the temperature was above zero because some of the snow was melting. Time enough to go out and get some photos and still get the cupboard cleared.
It's never that simple. I found a few good places to shoot, mainly landscapes, but then I discovered the fruiting bodies of some moss on a few rocks. Yes, I know it doesn't sound that interesting, but the light was so good, I had to take a few shots, quite a few shots. By the time I got back, we agreed that it was far too late to start on the cupboard, so we're leaving it for another day, a less photogenic one. One of the moss shots made PoD.
I assembled my pasta machine and started rolling out the pasta dough from the fridge into decreasing thicknesses. It's not nearly as easy as they show you in Masterchef. I think my dough was too wet and sticky. It seemed to want to cling to the rollers even after they had been dusted with flour. Eventually after a few tries, a lot of swearing and tantrums, we managed to make some spaghetti.
We cooked the spaghetti in boiling water just like the stuff you get in the deli at the supermarket, but it was a bit doughy and chewy. More practise needed and next time I'll leave the dough to rest in the kitchen, not in the fridge. It's a learning curve. However, I know this Italian bloke who might be able to show me how to cut a few corners! Tonight's dinner was Spaghetti with olive oil for starter, then Minestrone soup and the main course was a haggis, neeps and tatties pie.
Tomorrow we're hoping to go out for dinner. 30th January.