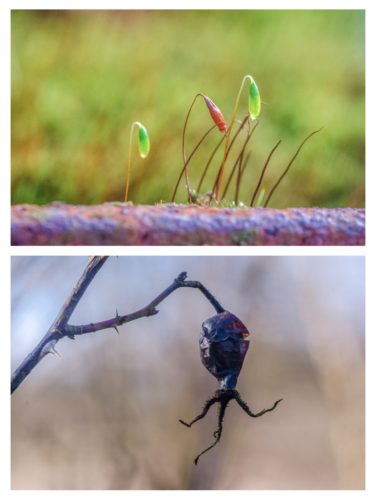 Now, before I get started on macros and stuff, I have to make one thing clear.  My skin is old, I'm comfortable in it, and most of all it is, like me, quite thick.  So the the 'Tramp' comment by Scamp yesterday was like water aff a juck's back.  If you don't understand that, then sorry, life is too short for me to teach everyone the meaning of everything I say.  I accepted that the 'Tramp' comment was made in jest and although it might have appeared that I took offence, that wasn't the case. Ok.  Can we move on now?
The photos above were the best I got today.  If I'd realised that the weather would stay clear and sunny all day, I might have been encouraged to travel further afield to make more of the conditions, but the weather men and women assured us that it was going to be torrential rain all day.  Give them their due, it did rain heavily during the night, but hardly a drop fell all day and for that I give thanks.  I went for a walk along the Luggie which was a raging brown torrent after the overnight rain.  It was treacherous underfoot.  Very slippy and slimy with mud moving about under my sole pair of boots.  Unfortunately, the old boots had developed a hole in the upper, just where it met (or in this case, didn't meet) the sole, so after six years of exceptional service they had to go in the bin.  The new ones, just over a year old now are great for waterproofing, but not so good on grip.  My bargain walking trainers are great for grip and waterproofing, but are only trainers.  They don't give support or keep you ankles dry.  I expect they'll be fine in  the summer when that day comes.  I liked the detail in the green blobs (moss fruiting bodies) and the desiccated rose hip.  Both were taken with the Sigma 105mm Macro.  Such a good lens.  Never lets you down, always bitingly sharp.  Slow to focus, but I can put up with that.  Doesn't have anti-shake, but doesn't seem to need it either.  Comes into its own when focusing closer than about 150mm from the front element.  Truly a gem.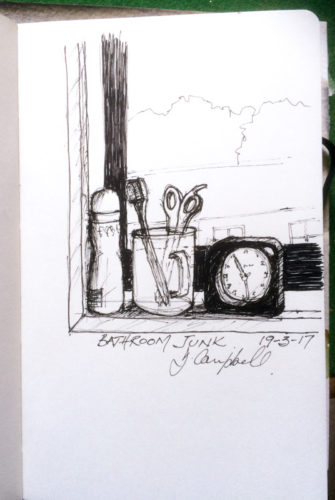 The sketch is an edited view of the bathroom window ledge.  I've removed half the junk and obviously a bathroom window wouldn't have clear glass, but artistic license is a wonderful thing.  It's not the best sketch I've done for my one-a-week, but it's done and on time (must be done by Sunday).  We were both a bit clumsy to start with, but by the end we were getting much slicker.  Must go and practise our moves for tomorrow's class.