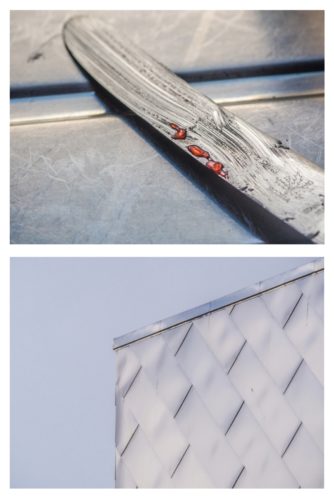 Windy Willie was Scamp's explanation for strong winds when the weans were wee.  No need then for Storm Agatha or Storm Benjamin.  No, when the house was shaking in the gusts, Windy Willie was out there, that was enough explanation.  Windy Willie was out today.
Scamp was singing again with Gems today.  This time in Stepps.  I had intended to go sketching in Glasgow to get back to more architectural subjects, but when I got there, the horizontal rain and hail put me off, so instead I drove to the Fort to get some cheap pens and not so cheap painting stuff.  I say *painting stuff* because Inktense sticks are difficult to categorise.  They are part pastel sticks and part aquarelle.  Aquarelles are usually in the form of pencils and these are just sticks of pigment in a binder and are like pastels, except when you add water to them they turn into watercolour.  Worth a few quid to try them out and see what kind of mess I can make with them.
I drove back past the old Gartloch Hospital, a scary looking ex asylum on the outskirts of Easterhouse.  I kind of want to photograph it, but it comes into the same category as graveyards for me.  I often feel uneasy about photographing graveyards and most times don't get the camera out.  It's almost as if I have to ask permission to take photos there.  I can't really explain it.  Some day I'll make time to go to Gartloch and get some images.  Whether or not I'll keep them I can't say.  I might just format the card after they're taken.  I will say this though, it will be a bright sunny day I go there.
Only two photos worth showing today.  One of contrasting textures between the grey sky and the grey aluminium of  the M&S building at the Fort and another of an old knife with a couple of beads of jam on it (not blood!) sitting on the draining board at the sink at home.  I just liked them both.  PoD was  the knife.
Before salsa tonight, I was enlisted to help with beginners Bachata which Cameron was teaching, and teaching quite well.  He still needs to relax, but his voice control is much better and he also needs to realise that he doesn't need to show off so much.  It all looks like a lack of self-confidence to me, but I'd never tell him that.  Enjoyed it.  Salsa was fast and furious.  New move tonight was Tresario Doble, I think.  Interesting and counter intuitive at times.  We need to practise it.  Also Cubaa Se from last week.  Good fun.
No plans for tomorrow.  Snow and ice forecast with Windy Willie around too.