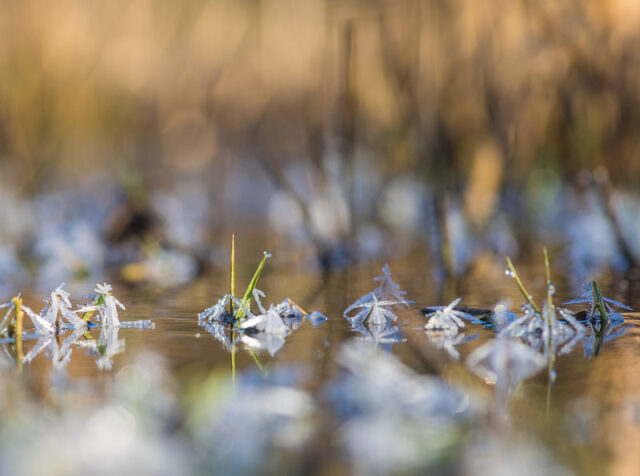 A lesson this time, not a dance.
Yet another cold morning. It was -4ºc when Scamp was making the breakfast.
Of course we weren't getting up at that time. Never on a Sunday! However, once we'd had breakfast showered and were ready to face the day I did take a walk to examine the frost on the car and managed to get a couple of photos of the little ice crystals. One was posted on Flickr, but it didn't achieve PoD.
It wasn't until well after midday that we steeled ourselves and went for a walk around St Mo's pond. I took a few more frosty photos there and it was one of them that produced the tiny frozen trees that made PoD. It was a close run thing with my other favourite photo, a leaf covered with hoar frost.
It was just above freezing when we arrived back at the house. Dinner tonight was Bacon and Borlotti Beans. Now becoming a firm favourite. Then we had to move all the furniture around for tonight's dance class. First off was a reprise of last week's Mambo Marina followed by our ongoing stumbles through Rumba and finished off with the Midnight Jive. We weren't too bad at that. It was me stumbling round the rumba that was the low point. Even with Stewart and Jane's encouragement, we are finding it hard. Not insurmountable, just difficult. It doesn't help that we are dancing on a carpet and they are demonstrating on a polished wooden floor. However, the hour passed fairly quickly and with a bit of practise over the next few days we'll get there, I'm sure. If not, we'll have invented an new dance, The Stumble Rumba. It does have a certain ring to it!
Spoke to JIC at night and were surprised to hear that they had had a full day of snow and we had none. Maybe I shouldn't say that. You never know what we'll wake up to tomorrow!
Tomorrow morning I'm supposed to be doing a rubbish uplift for Shona. Hope the skips have been emptied over the weekend to make room for it all.