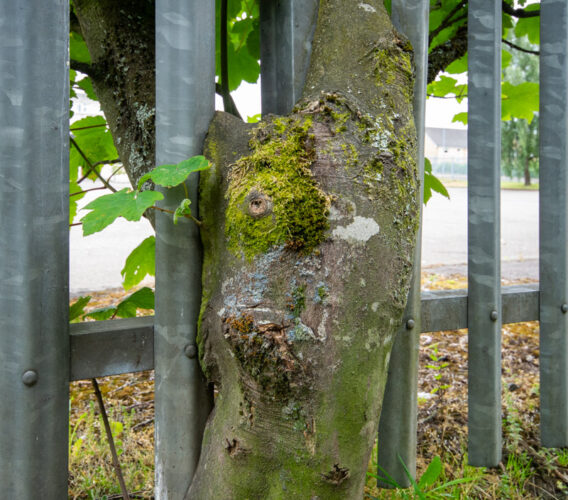 There wasn't much to say about today.  The sky was Scottish white.  It was warm, too warm and we did nothing.
Some days are like that.  You keep waiting for things to get better, but mostly they just stay the same.  I was waiting for my coffee and tea to be delivered from the Bean Shop in Perth. Scamp went for a walk to the shops for tonight's dinner and I stayed and waited for the text from the DPD man to say when the parcel would be delivered.  DPD usually text around 11am to say when it's going to arrive.  If the text doesn't come by then, it means it's a later delivery.  When the text arrived it was to say that the parcel wouldn't be delivered until later in the afternoon.  After lunch we did a quick round of the garden,  dead heading the flowers that had lost all their petals or had gone to seed.
After the parcel arrived I went for a walk.  That's when I found the tree growing through the fence of St Mo's school. I've always meant to photograph it, just in case the council take it into their heads to cut it down.  Today was the day.  Not great lighting, but a record of the event was made.  I'd taken the old Sigma 10-20mm lens and the Zenit Helios 44 58mm.  An Old Glass day. Both lenses work in manual only now which is a different experience to the automation I'm used to.  The Sigma took the shot of the tree.  Unfortunately that was about the only decent shot I got.
Dinner was an M&S curry each because it is Friday and nearly the weekend, if such a thing exists any more.
Hopefully tomorrow will be a better day, but that's not what the weather fairies say.  They are predicting rain.  At least that will mean we don't have to water the garden!