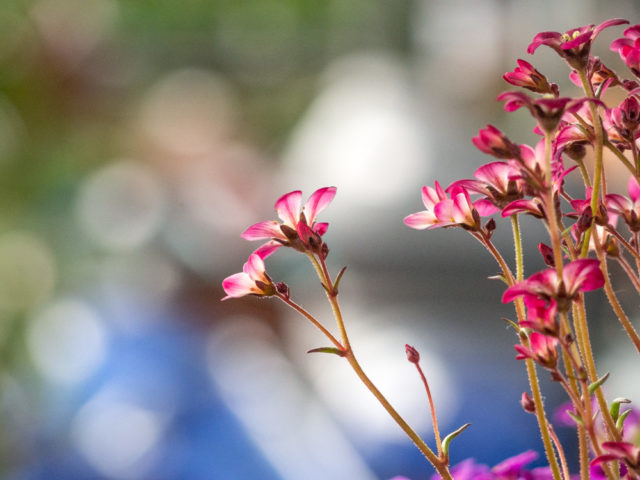 Today it was decided that we'd go to the garden centre we had hoped to visit yesterday.  JIC had checked and it would definitely be open.
Before we got there, JIC wanted to visit another *garden centre* which was certainly not allied to any national or regional garden centre chain.  What it was, was a very busy plant sale with prices that were almost as good as those in Poundland, but for much healthier plants.  I felt sorry for Scamp, wandering around the racks of greenery like a wean in a sweetie shop without a penny in her pocket.  Only it wasn't money she was without, it was transportation.  You see, we were FLYING home later in the afternoon and you can't carry plants in a plane, at least not the quantity and size of plants she had here eye on.  Also, those glazed pots were really cheap, but can you imagine the damage the luggage handlers would inflict even if you did pay the £15 overhead for putting them in the hold.  Eventually we had to drag her away as we packed the car.  Three of us in the back, Scamp, me and a pear tree.  No partridge.
I got two photos at the plant sale.
On 14th April I took 71 shots
On 15th April I took71 shots
On 16th April I took 28 shots
On 17th April I took 4 shots
You can tell when we were going home.  But it's not quantity, it's quality that counts and I liked the quality of the above shot which is of a Queen's Cushion flower.  That said, I find the background almost as interesting as the foreground with its mix of Oof (Out Of Focus) colours.
With the car fully loaded we arrived at the garden centre (a horticultural version of coals to Newcastle) for lunch.  I picked the poorest option which was Chicken wrapped in pastry with potatoes and as much veg as they could cram on.  The veg was great, the potatoes were awful and the chicken was dry.  I envied Scamp and Sim their salmon and JIC his roast lamb.  Oh well, maybe next time I'll make the sensible choice.  After lunch we drove home and unloaded the car.
To quote Tom Paxton "… All too soon it was time to go …" (Talking Vietnam Potluck Blues), and it was time to go.  We said a sad farewell to Sim and Vixen (the Devil Dog) and JIC drove us to the airport.  For once the plane took off on time and we had a fairly pleasant flight given that the plane seemed to be three quarters full of noisy BBs and their minders.  I don't suppose you can really call them BBs any more, but Persons Brigaders just doesn't make sense.  I did laugh at the big cheer that burst from them when we landed in Glasgow.  The view from the plane as it cruised over the city was tremendous with the sun shining through rain clouds.  It reminded me of the cover of the Raintown album.
From the airport we did the cheapo transport to home.  We got the (free) bus from the airport to Queen Street station, then just managed to catch the Croy train after paying the Pensioners price.  At Croy we just caught the (free) bus to Craiglinn and walked home from there.  Last of the big spenders, it cost us £4.10 total to get from the airport to home.
Tomorrow will be a lazy day.