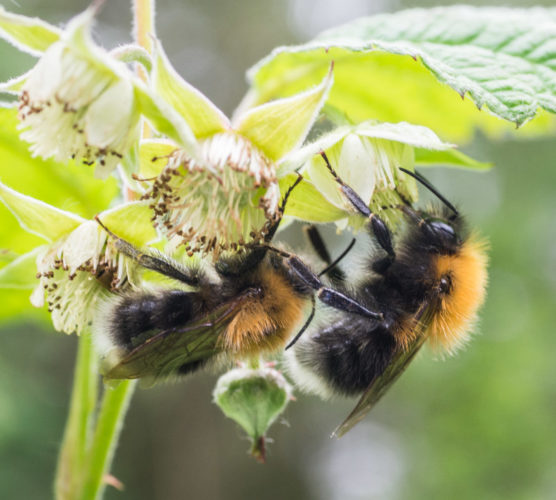 Not going far
It wasn't the weather this time, it was just the threat from tiny wee beasties.
Last night after I'd posted the blog and put the iMac to bed I found another tick. That settled it. Definitely no more walks in the long grass at least until the first frost. The further I got today was over the paths around St Mo's pond, keeping strictly to the path. Didn't get many photos, because the light level was fairly low. Heavy cloud all afternoon was the culprit. In the morning the weather was much more pleasant and on retrospect I should have gone out then, but I didn't. My fault. I've made that mistake before and I'll probably make it again. However I didn't come home empty handed, I got today's PoD which is a couple of White Tailed Bees (Bombus lucorum) on some bramble flowers.
I potted up some strawberry plants and a yellow aquilegia in the late morning , then, together with Scamp pruned some of the roses and the forsythia. We also pulled some rhubarb which Scamp made into a pie. There's even some left over for tomorrow.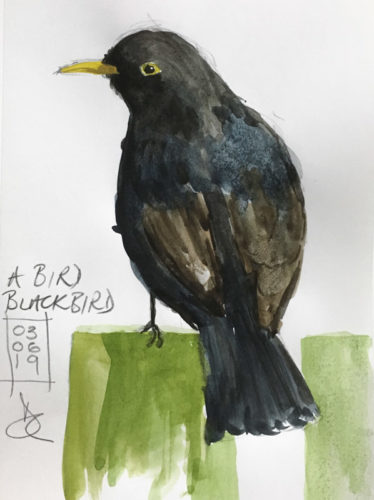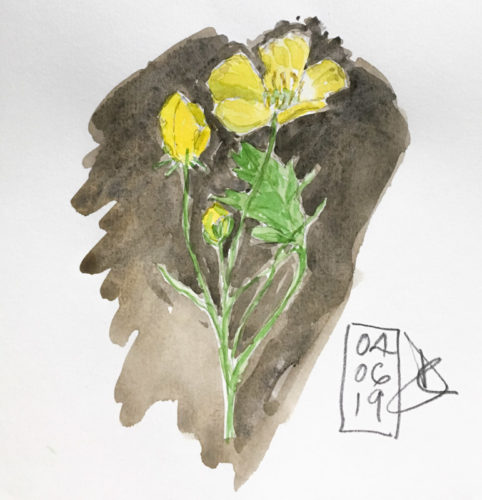 Later in the afternoon the rain returned and drizzled on for the rest of the day, so I retired to the drawing room – the room where I draw and managed to catch up with the sketches for June. June 3rd was A Bird and today was A Weed. The bird became a Blackbird from a photo I'd taken back in April and the weed was some buttercups which are the bane of Scamp's gardening, but I like them. They were drawn from life. That's me up to date now so maybe it will become easier from now on. Since I'm only doing it for fun and am not posting them on social media, I'm treating them as practise pieces and a chance to experiment.
Tomorrow we're probably heading in to Glasgow to dance the afternoon away at Blackfriars. I don't think we're going to risk going to STUC at night, since Jamie G is still down south.