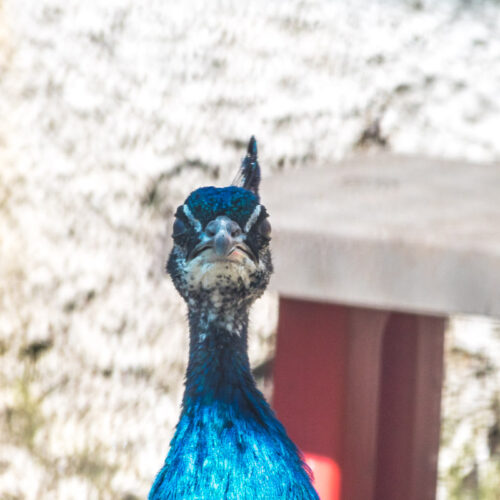 Another beautiful morning. Scamp suggested we do the ascent of Barr Hill or drive to Dunfermline for lunch. I thought if we went to Dunfermline I might get a chance to play with try out my 6 stop ND filter at Torryburn on the way home. That seemed to meet with her approval, so I bundled two cameras in the car (the tripod was already there) and off we went.
Parked at Pittencrieff Park and with the Oly in its old brown bag slung over my shoulder and the tripod left to look after the Sony in the car, we walked over the park. Trees were beautiful carrying a full head of blossom. We walked down past the big glasshouse which was locked as expected due to Covid restrictions and round the formal garden which looked well maintained although hardly any of the flowers were blooming. Just too early in the year for that. Lots of primary kids on activities week running races and having shouting matches in the big empty spaces of the park. Two folk were doing a meditation under a bit tree. I don't know what kind of tree it was, we weren't close enough to do an ID, but I'm pretty sure it wasn't a Bo tree!
We walked over to the aviary and found one shy peacock that would strut along the outside of the fenced enclosure, take a look at us and hurry back. It did this three or four times. All the peacocks and peahens had names and identity rings on their legs. Two old guys were discussing them as if they were family members or friends they met at the pub. Today's PoD came from there and was just a lucky shot, catching the bird with that "What you think you're looking at?" look on its face. We said goodbye to the peacocks and the peahens and headed into town. We went in to Nero and I had the best coffee I've tasted (except my own) for about a year or more. After the first wave of the pandemic, Nero started selling coffee in takeaway cardboard cups and seemed determined to fill the cups to the brim, diluting the coffee so much it was undrinkable. Today's coffee, while not up to my or JIC's standards was certainly a much more palatable drink than those watery waste of taste cups from last year. Even better, the coffees were served in real cups. Surely a sign that things are returning to normal.
We both wanted to get a cheap Hoodie, just to keep in the car for emergencies. Right next door to Nero was Primark. Less than £20 for two hoodies seemed like a bargain. They're not top quality, but they will serve the purpose they were bought for. We walked back to the car, not stopping to count the boarded up shops that won't open again for some time. Some shops that have been in the town for years have now disappeared. That's sad. Dunfermline was a bit of a ghost town before Covid hit, but not even the ghosts have gone, it seems. Maybe it will rise from the ashes, but it might take some time.
Drove back via Torryburn where I was hoping for high tide, some heavy clouds and a bit wave movement. Unfortunately, the tide was right out, the sun was shining and you couldn't even see any waves. We didn't even get out of the car, we just drove home.
Stopped at Tesco to get yet another birthday card (count back 9 months from mid May and that might give a clue to the reason for those births 😉). Scamp got herself a pair of leisure trousers.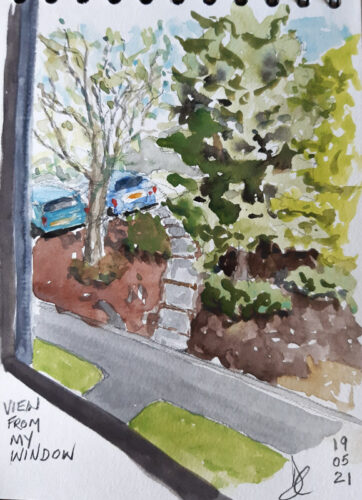 Scamp had bought me a tray of Calabrese yesterday, so when we got back I planted a row of them in the raised bed and watered them in. I don't really think they will need watered, because we're due some heavy rain tomorrow. I also completed today's prompt which is "The View From Your Window" That was tough. I'm not totally happy with the result, but it's finished and it's uploaded now, so I've completed today's challenge.
Tomorrow, because of the weather forecast, I think we might go for a drive if we're going out at all. I don't think a walk will be on the cards.