Today we visited Loch Lomond.
Tuesdays are becoming the 'just go' days. Just get up, get out and go somewhere. Today that 'somewhere' was Balmaha on Loch Lomond side. To those who have never heard of it, it sounds like somewhere exotic, but you're probably getting mixed up with The Bahamas. It was not very exotic today, in fact it was a bit cold, but when you were in the sun it didn't feel too bad.
We had packed a flask and the usual assortment of picnic food like crisps and chocolate biscuits. Good healthy food and not in the least fattening. Before we got stuck into that we had to do some walking to get the blood flowing after our 50 minute drive. Walked down to the jetty and that's where I got today's PoD. It's a two frame panorama stitched in Lightroom 6, thanks for asking. The blue sky is real and it looks exactly like the view from that pontoon today.
After getting my photos we walked back to give some other folk a shot on the pontoon. Took some more photos near the poorly tended Tom Weir garden. Then it was back to the car for a coffee and a chocky biscuit.
Scamp fancied stopping at the Beech Tree Restaurant on the way home, so that's what we did. Luckily the Sat Nav lady knew the way to Dumgoyne and gave us directions.
Food was good, but I got a fright when the waitress asked me if my name was Campbell and was I a Techy teacher, if so there was a young lady sitting in the corner seat who thought she knew me. It turned out to be a former pupil and thankfully, it was one of the most pleasant ones I'd taught. I went over and had a few words with her and her dad who I remembered from various parents nights. Poor girl, like so many others, she's working in a job she doesn't like. I know that feeling. It took me many years before I got the opportunity to do a job I really enjoyed. Hope she gets that chance before long. After being properly fed on Haggis, Neeps and Tatties, and giving father and daughter a wave on the way out, we headed for home. Today was a lovely day.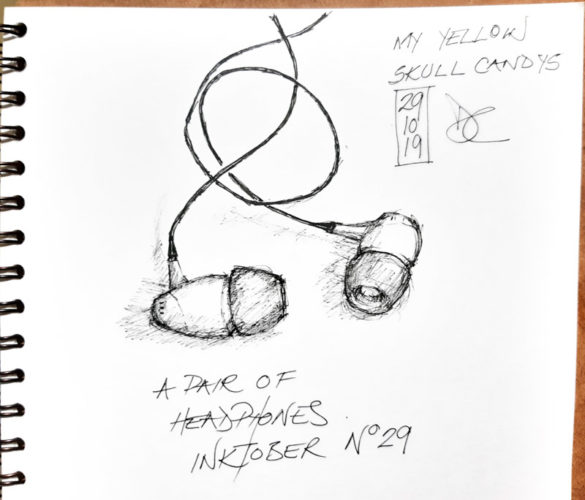 I'm still not sure if the proper term is Skullcandys or Skullcandies. I'm going with the former. These are my go-to headphones (or to be more precise earbuds) when I'm out walking by myself. They fitted the topic today perfectly and the topic was A Pair of Headphones.
Tomorrow Scamp is out in the morning and we're hoping to dance in the afternoon.