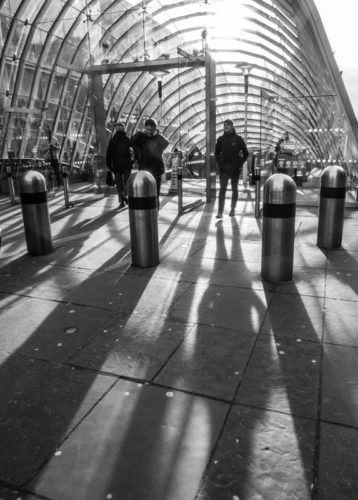 Yes, on the 30th of January 1971, Scamp and I met for the first time. She wasn't called Scamp then, she laboured under her old name, but not for long!
We'd already planned to get the bus into Glasgow today and that's what we did. Just waited at the bus stop for less than five minutes when the bus arrived. It was going to be a good day.
Walked through JL without visiting the 'Toy Shop', the one on the second floor that has the computers, tablets and cameras. No, I was going to be brave, I wasn't going there today. Straight through and out the other side without with hardly a backward glance. Then down Bucky Street in bright sunshine and a cold wind down to Nero at St Enoch's for coffee. From there we took the subway out to Byres Road, but not before I got today's PoD which is at the top of the page. There's another one from the same spot taken a few seconds before that way, vying for first place, but dropped to second because it didn't fit my title just as neatly. It did, however get a place on Flickr, so I'll let the great Flickr public decide which is the stronger.
At the West End we went for a walk to the Botanic Gardens and showing my resolve again, I didn't go in to the Kibble Palace and waste gigabytes of space taking shots that I knew in my heart of hearts wouldn't work. Instead we walked round the gardens in that cold wind, although the sun had disappeared. We saw what appeared at first to be a union meeting. Lots of folk in hi-vis jackets being harangued by some bloke. On closer inspection and with a bit of earwigging on my part, it appeared that they were in fact being given fairly detailed instructions on pruning plants, by a professor type bloke, you know the type; long hair, long beard, no hi-vis, very animated. The sort of bloke "who speaks loudly" in restaurants as John Cleese once said. The hi-vis brigade looked really bored, not to say pissed off. My heart went out to them.
Actually, we agreed that this was the first time we'd ventured further than the hothouses in the park and there were a lot of interesting things to see. Well, let me rephrase that to; there will be a lot of interesting things to see there once they are actually growing (and when the cold wind has gone). Definitely worth checking out in a few weeks time.
We walked down Byres Road and had lunch in Usha's Indian restaurant (no professor types speaking loudly though). Got the subway back to Glasgow and went for a wee drink in Lauder's Old Folks Home Bar. Drink was cheap and we were close to average age for the clientele. This was a quote from a bloke speaking to Scamp, think about it:
"You stop liking snow when you have to buy your own shoes"
Here's a last thought for two of my readers. If it wasn't for two folk going to a party forty-seven years ago, And if it wasn't for one of those folk losing a guitar on the train, you wouldn't be here today!
Tomorrow, I may return to The Toon. Looking for a bit of Tweed!