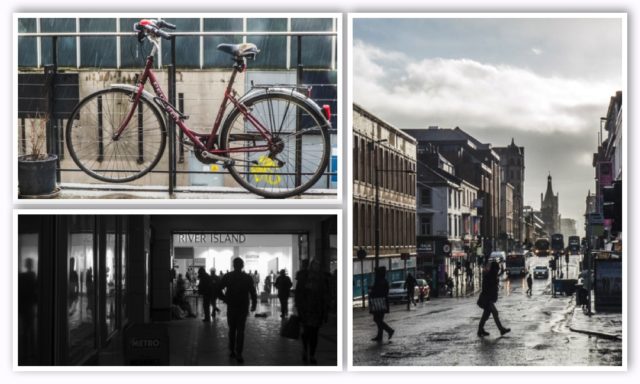 Today I left the real world and entered the world of darts, hems, gussets and linings. I went on a cloth hunt.
Scamp gave me a lift to the station and I caught the express train to Glasgow Queen Street. The express only makes one stop, Glasgow Queen Street. Take note First Bus. Not twenty stops. It, the train also takes about 12 minutes to get to Glasgow from Croy. The 'Express' X3 takes about 40 minutes. I could go on, but what's the use. We're stuck with the slow bus. That said, the bus stops at all the stops it's supposed to while the train sometimes misses a station if it's running late, but only about 20 times a day says the Scotrail representative as if that's ok then. Ok as long as you aren't running to a tight schedule and need to get to a meeting, or an appointment, or anything really. Ok as long as it's not the Scotrail representative who misses his station. He probably doesn't have that problem anyway as Jaguars and Daimlers are fairly reliable cars, so he never has to travel by public transport.
It was raining and then sleeting in Glasgow. Such a change from yesterday when the sun shone almost all day, or so it seemed to us. Today I was out getting cloth, sorry, fabric, lets speak the language of the country we're in. I was buying fabric for a waistcoat I'm making. It's part of the Christmas present from Scamp. She bought me the pattern and I got to choose my fabric, then I have to make it. A waistcoat seemed easy to start with, but now that I'm getting to the nitty gritty of it, it's not that simple. However, I got some help from the assistants in a couple of shops today and now have some Tweed, some Cotton, some Viscose lining and some Satin. Probably enough to make two waistcoats. Hopefully it will look a lot better than the boxers, Hazy. I was shocked at the price of some of the material (Material is similar to Fabric, I believe). I foolishly thought it was going to be fairly cheap to make your own clothes, it's not. And all those new words I'm picking up. Now I know how my pupils felt when they met strange things like Tenon Saws, Sash Cramps and Ball Pein Hammers. Every skill has its own terminology and I'm beginning to learn the correct words and grammar for this skill.
Got a few photos round the town when I was wandering around, but most were rejected after I'd had a good look at them on the computer. The bloke crossing the road was a grab shot, but I liked it the best, so it's my PoD.
Tomorrow I'm hoping to get the paper pattern cut out for the waistcoat and as Scamp is going out tomorrow night, I might have a go at a mock up, hopefully without too much mockery!