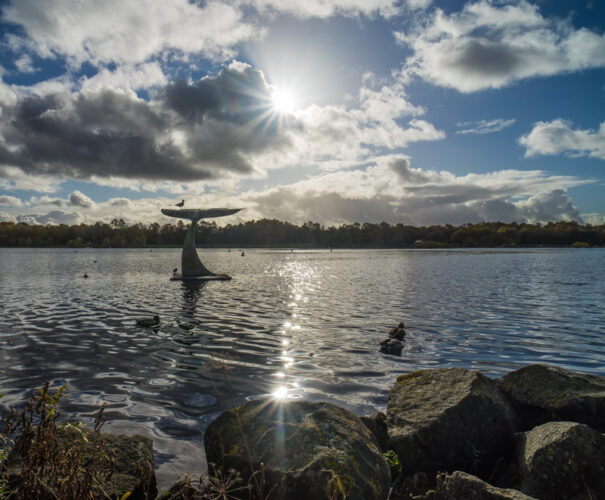 A day that could have been lovely and one that could have been rained off. We took the chance.
Before anything else today I drew yesterday's sketch which is now on yesterday's post and I was happy with it. The theme was Chef, so the chef's hat and knife are part and parcel of his or her trade.
If you just sit there and say "It might clear up", it never will. We've learned that. Take the chance and seize the day. Scamp suggested we should go to Drumpellier and she was driving. It was the right thing to do. We had a walk round the loch. I think it's big enough to call a loch, not a pond. Lots of people walking round the loch in ones and twos and even in groups of four, but we didn't stop them to interview them on how many households were involved and was this their region. We leave that to the FM, should she dare to do such a thing. We must have been striding out at a fair pace, because we covered the distance in no time. We did stop a few times to watch the duck, geese and swans, oh yes and I took some photos too! Quite a few. There was nowhere to have a coffee or something to eat, because it's Coatbridge and they don't do hospitality. Everywhere was boarded up and barricaded. It's a virus, not the return of the Visigoths! There was an ice cream van, but with a temperature hovering around 7ºc we passed on that option and Scamp drove us home.
Back home, after inspecting today's photos and having lunch, I walked down to the shops to get some peas for tonight's dinner via St Mo's. Got another couple of decent shots there. Light was that lovely golden hour just before the sun truly sets. One of them almost made PoD, but it was beaten by a gull sitting on a sculpture of a whale's tail, taken at Drumpellier.
After dinner we did a short ballroom practise ahead of tomorrows Zoom dance. We're not absolutely certain sure that it's going ahead, but it's best to do a bit of practise just in case. We were both a bit rusty on the exact moves that were joined together to make the Waltz, but Scamp was on the button with the 'ring a ring a roses' dance she calls Sequence. We finished up with a fair chance of not making complete idiots of ourselves tomorrow, if the dance goes live.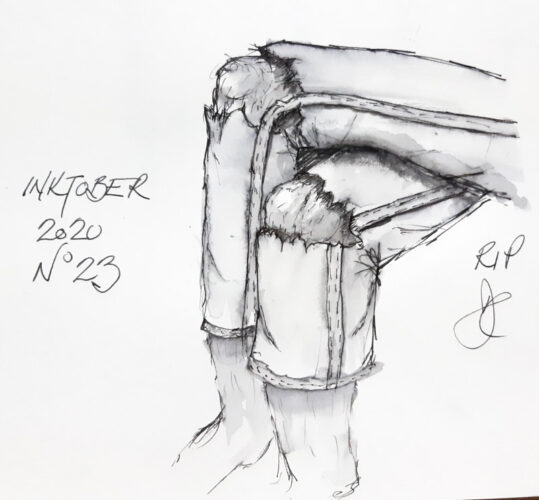 Today's sketch topic was Rip. I drew a pair of ripped jeans. Everyone has a pair, I think. They are usually the most comfortable pair you've ever worn and it's not that you're mean and don't want to spend the money on a new pair. It's just that it took you so long to get them as comfortable as this. They have character.
Fashionable ripped jeans are a totally different thing. Not worth talking about.
Tomorrow looks like rain. We may stay in at least in the morning.