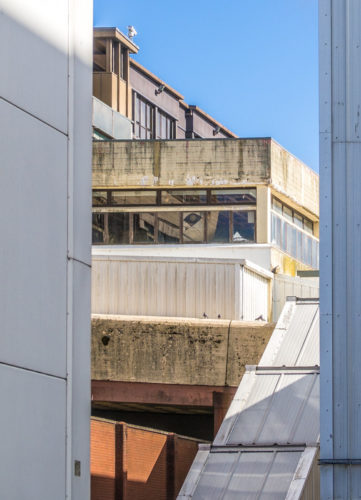 I started early this morning, going to the library then taking a walk down the Luggie.
Today's PoD was taken on the walk to the library.  It proves that the sun can make even the ugliest building look good, not great, just good.  Let's not get carried away here. It's still a pretty ugly piece of concrete.
Didn't get much along the Luggie, mainly because it was just too cold.
After lunch I went for a walk along the canal from Auchinstarry and got caught in a hailstorm blowing down from the north.  Not many photos there either.  However, despite the biting wind and the driving hail, I saw two swallows.  Now, as we all know, one swallow doesn't make a summer, but do two swallows make a decent spring?  I think that maybe they do.  On the way back along the railway path I saw about a dozen of the birds flying low over a pond.  Low flying swallows means poor weather coming, but at least they are here, just a day later than last year.
Scamp wanted to get in two salsa classes tonight and I was happy to comply.  By the end of the two hours I was dead beat, but according to my Fitbit, I've taken just over 19,000 steps today.  That must be a record.
This is a short blog entry because I'm trying desperately to get to bed the same day I woke up.  I might even achieve it.
Tomorrow?  Haircut probably.  It's getting like a 'pure afro.'