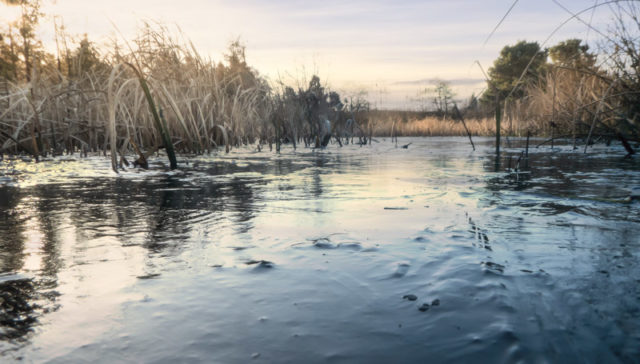 Not very early, just after 10am, but much earlier than usual
Scamp was off to see Isobel for coffee at 10am and I was up and out a few minutes later. Just a walk over to St Mo's to see if there was anything worth taking the camera out of the bag for. I'd put some beeswax on to my old Lafuma boots which are about twenty years old now. Not the best boots in the world, but they've a Goretex lining and they've a decent sole, so they're better than my Clarks boots, just as long as I remember to wax them.
I was just walking towards the woods when I saw the three deer I was hoping to photograph, running away. Oh well, hopefully there will be other things to photograph. Despite the blue skies and the ice on the ponds, there was nothing that fired my interest and I was walking back home when I saw the opportunity to take another low level shot by resting the camera on some thin ice. It's a view I couldn't get any other way. The Nikon was out of the question. Too heavy and wrong lens selection. It had to be the Teazer today and it performed quite well. I'd cleaned it last week by using the Dyson to suck some of the dust from the lens. I hadn't believed this would work, but it did. Best of the shots is above after a fair bit of work in ON1 2019 and Lightroom.
Got home just before Scamp and then we went out to recce tomorrow's venue for dinner with Margaret and Billy. Their treat, their choice of restaurant. They'd chosen John Carrigan's in Blantyre. Now I know where Blantyre is and I know how to get there, but just in case, I punched the postcode into the satnav and blindly followed it. It was a strange route that eventually took us within 100m of my Auntie Mary's house. The last time I was there was easily 45 years ago, but I still remembered the geography of the place. Really strange seeing the changes that had taken place. Even stranger was when the satnav said "turn left then immediately turn right". That's when I saw a pub that I used to pass on my way to work 50 years ago!! It looked exactly the same and I don't think it had been painted since. Despite the strange route, the satnav did bring us exactly to the restaurant. I decided to follow my nose to find our way back home rather than take the twisty turny road we'd come. My route took almost the same time, but was much easier.
Back home, there was just enough time for a cup of tea before I was out again to the doc's. The doc hadn't been happy with my last blood test and wanted another one now that a month had elapsed since the previous one. Unfortunately, just before it was my turn, he was called away on an emergency. I hate waiting for the doctor or the dentist but I dare say emergencies happen and must take priority. I was dealt with fairly quickly and then was 'lucky' enough to get an appointment tomorrow. So, after a busy day today, I'm off to the health centre tomorrow for a blood test at 8.50am no less!! I don't usually surface until 10am! What are these medical people thinking, getting a pensioner up at that time of the morning?
Well, if I'm up that early, I might as well take my camera with me and hopefully get some early morning shots of those deer before they have fully woken up.