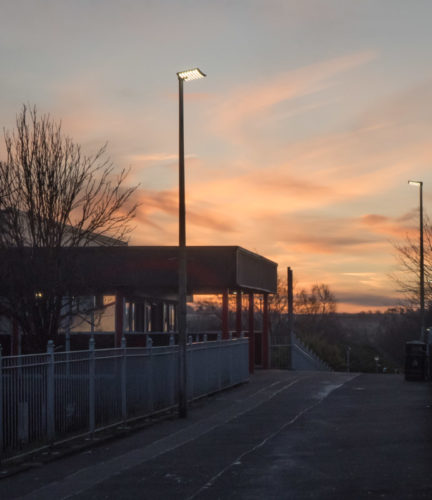 Why is it when I set the alarm on my phone to make sure I wake up on time, I don't sleep for more than an hour at a time?
Up and out for 8.20 this morning to go to the docs for a blood test at 8.50. I needed that half hour to scrape the car and get the temperature up to a reasonable level where your breath doesn't freeze instantly in front of your face. Then I had to drive through the hosts of parents driving their children to school to make sure their little feet and knee joints didn't wear out prematurely.
Got parked and grabbed today's PoD of the sun colouring the sky and clouds above Carbrain. A bit of a misnomer, because everyone in Cumbersheugh knows there isn't a brain in Carbrain. I walked a bit further and watched two women being terrorised by marauding feral seagulls behind Boots the Chemist. Great beasts of things, they were and squawking like banshees and the seagulls were almost as bad. By the time I got to the doc's, the sun had broken free of the horizon and was lighting up the sky properly. Another shot in the bag which might have beaten the first if it wasn't for the ugly flat roofed Carbrian flats with windows and no doors. "Blots on the Landscape", could have been the title. Did my Tony Hancock impersonation (if that makes no sense to you, Google 'The Blood Donor', a Hancock classic) and then headed home for breakfast which on this cold, clear morning would be porridge and a cup of Assam. The best central heating known to man.
Scamp was determined to renew our passports online since she heard that you could take your own photo and get it validated immediately. It's a brilliant system and I'm still not sure if it is a really clever algorithm (the word of the moment, don't you know?) or an actual human sitting there giving thumbs up or thumbs down. Possibly this will be the ultimate Turing Test some day. Anyway, the upshot of it was we passed the test and ordered our shiny new passports. Then we'd to send our old passports off to be cancelled or redacted or simply have their corners cut off. Again will it be by machine or will it be by a minimum wage human? Who knows. Just so you know, you have to actually post the passport off, you can't simply stuff it into the USB port in the back or side of your computer. That's a pity. It kind of goes against the digital ethos of renewing your passport online. That said, the whole thing is much better than take the photo, fill in the form, post the lot away, wait a week, get a refusal because Gort says the corner of your mouth is slightly upturned and you might, just might be starting to smile. DO IT AGAIN PROPERLY THIS TIME. Yes, this is a big step forward, even if we don't know if Gort is human or android.
Drove to Blantyre to Carrigan's and had dinner tonight with Margaret and Billy. Food was good and plentiful. My roast gammon had been sitting under the heat lamp for a few minutes more than I'd have liked, but it was more than made up for with the dessert. Total silence while four of us struggled with our Tablet Ice Cream. Astounding dessert. Totally unnecessary, but total gluttony!
Managed to find my way back on to the M74 only to find the M73 turnoff was closed tonight, but then I navigated my way off and over the M74 and back on to the M73 turnoff on the other side. That confused the satnav.
Tomorrow I believe we may be going to Stirling to Waitrose for food. Hopefully we won't be getting up early and I'm not setting my alarm, so I should sleep less fitfully than last night.