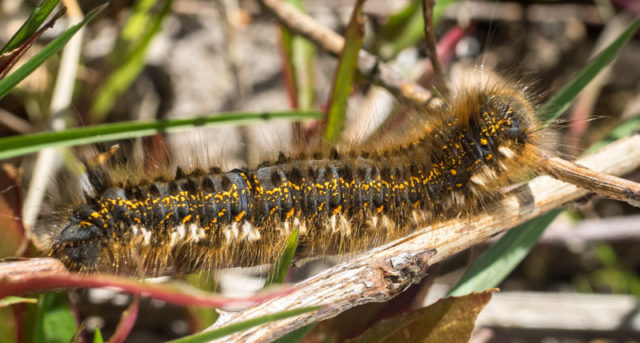 I'd considered going out yesterday, but realistically it was too cold. Yes, it was warm, hot even in the sun, but the wind was cooling, too cooling. What I did say was that I would go today and I did. The wind had dropped and it was a really enjoyable run, but after only about twelve years, it looks like I need re-grease the front wheel bearings. I'd have thought the bearings would have lasted longer than 12 years 😉 I need to have a serious look at them tomorrow to find out if they can be cleaned and re-greased or if I need to buy a new cassette unit. Still, it was a good run on a warm day and contributed to my daily exercise. Got a PoD too. It turned out to be a Drinker Moth caterpillar (Euthrix potatoria).
Back home after lunch I'd half decided to go out for a walk to get some more photos, but a seat in the sun, joining Scamp at the front door was an even better option so I took that with both hands. Read a few more chapters from my latest book City of Windows. Enjoying it. Saw my first swallows while I was sitting there. It was the screaming sound they make that alerted me. Maybe they were house martins or swifts. I don't know the difference. Must find out.
When Scamp decided that it was warm enough to take her lounger to the back garden, I finally gave in and took the Oly out for a walk in St Mo's. It would probably have been better if I'd taken the SD card with me, but luckily there wasn't much to photograph. Then when I was walking back across the BMX track a damselfly lifted off in front of me. No time to take a photo, even if I'd had an SD card!
By the time I came back empty handed, it was cooling down a bit and we ate our kedgeree inside, but took our tinned peaches in lime jelly outside with us. Coffee outside after that, then out of a clear blue sky a little cloud appeared and obliterated the sun. Then that same cloud grew bigger and didn't seem to want to leave the sun. That's when I decided it was getting too cool for comfort. Shades of what's to come if the weather fairies are to be believed.
That was a good day. The first real run with the Dewdrop this year, my first swallow this year and my first damselfly this year. I'm happy with that.