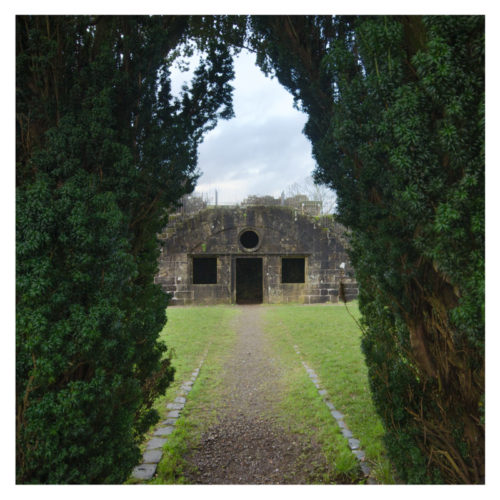 Much better looking day today, even some sunshine when we woke (whisper it).
After breakfast and a couple of chapters of my newest book (that's about five chapters for Scamp) and then showered, dressed and out. Today's destination was Mugdock Country Park in East Dumbartonshire.
Followed the satnav to go there and got parked without any problem and got the walking boots on. The girl who was parked next to us warned us that the paths were quite mucky and she was indeed correct. Walked down past the converted stables and on to the old ruined Craigend Castle, now protected from the punters by a security fence. Got a few shots there, pushing the camera gingerly through the gaps at the joints of the fence. It was the Nikon's day out again today after it produced the goods yesterday. Further on in a stand of trees, big redwoods, we could hear a woodpecker, but couldn't quite see it, then another one started up and it seemed a bit like call and response for a while. I was walking through the trees trying to locate the tree the nearest one was in when both of them stopped. Then I did see one fly away across the woods to where the other one seemed to be. No photos though. Scamp had followed me in to the woods and she was the one who noticed the daffodil and maybe snowdrops green spikes sticking up through the leaf litter. Hope I didn't tramp on any on my way in. I was more careful on the way out.
We walked on to Mugdock Castle and that's where today's PoD of the Summer House came from. Just a ruin now, it must have been a fair sized fortress in it's day back in the 17th century. From there we walked round Mugdock Loch and followed our noses back to the coffee shop at the centre. Two coffees, one roll 'n' egg, one roll 'n' sausage (with fried onions!) all for just over £8. A bargain and we'd earned it with our walk.
Drove back home through Bardowie. Drove right past your friend's house there, Hazy. We couldn't remember her name. Then we were on a well kent road all the way home. Enjoyed the walk. Enjoyed the company and enjoyed the food. Not a bad day at all. We've vowed to go back again soon and take a different road next time.
Dinner tonight was fish and chips with haddock from the fish shop in Kilsyth. A fitting end to the day.
Tomorrow I've suggested we go in to Glasgow on the bus.