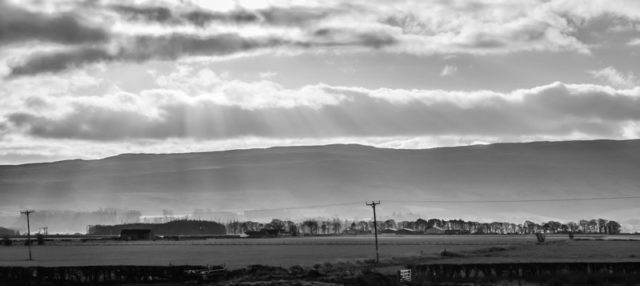 Cabin fever was taking hold. We need to GO OUT!
Up fairly early, even although I'd just started my new Ben Aaronovitch book "Lies Sleeping". It's a good book so far, but there was blue sky out the window and shadows in the room, which meant the sun was up and shining. Today we were going out for lunch. I'd already decided in my own head where we should go. I rejected Scamp's first suggestion that we should go to Glasgow so I could get my hair cut. No, maybe next week, or next year, whichever came first. Her second suggestion was either a case of mind reading or just synchronicity. "Why don't we go to the Smiddy at Stirling for lunch?" That was it settled. The Smiddy for their delicious Mac 'n' Cheese for Scamp and Veg Chilli for me. Also the chance to get a photo or two at the place where there's always good light.
Drove there and got a table right away which was a surprise because the place was jumpin', mostly with Hooray Henrys from 'Darn Sarf' as Ray would say, up in Scotland for New Year. Then came the downer. New menu. No Veg Chilli. Yes, they had Veg Korma, but that simply wouldn't do. Next best thing was Chicken 'n' Chorizo with Beans 'n' Tomatoes. Yes, that sounded interesting. It was very good! I could probably make it at home too. Nothing too difficult there. Basically the ingredients were in the name.
Outside I got some shots that could be converted into a decent photo or two. I was toting the 'Big Dog' today because, although it was blue skies when I left the house, you never know what you're going to meet outside Stirling. I needn't have worried, the skies were clear, the only problem was shooting directly into the sun. I like the finished article which you will see above.
Home and then I was out to the Central Health Centre for a blood test. Results probably on Monday. If not, then next year. Grabbed another couple of shots of Cumbersheugh College before I headed home.
Just finished watching the first episode of Billy Connolly's life story, and it was funny for folk like us who had lived through similar times and similar situations. Probably means nearly nothing to young viewers.
Tomorrow? Maybe Glasgow on the bus. Need to but a cheap hole saw, because Scamp has a plan to defeat the rodents and is sounds interesting.