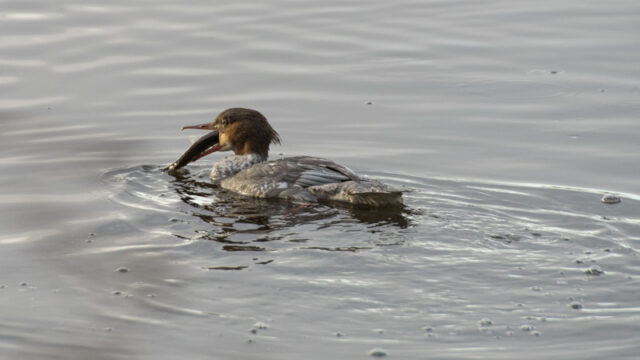 Now, before you get the wrong idea, I wasn't wearing waders and freezing my backside off by a river. No, I was only watching.
We were sort of curtailed by the Littlest Witch's banishment of us to North Lanarkshire. Only sort of, because we'd both agreed that we didn't really want to go to Glasgow at the first weekend when lockdown wasn't in force and the place would be full of mad Xmas shoppers. Also, the sun was breaking through the clouds and it looked like it was dry outside, so we headed off in the general direction of Broadwood Loch to get some fresh air and possibly some foties. We walked down and over the boardwalk and that gave me a chance to warm up with some shots of Tufted Ducks (commonly called 'Tufties'). It was when we had crossed over the boardwalk that we found the fisher. It was a female Goosander with a fairly big fish in its mouth. I'm guessing it was a perch, but I couldn't be sure. The bird was struggling:
A to swallow the fish whole
and
B to avoid all the other goosanders who wanted their share of the catch.
Eventually after a few minutes and a few shots from the camera, the fish was no more than a lump in the Goosander's throat. Then off it swam in search of other fish to catch.
We walked on round part of the pond and on to the dam. Then it was down and round to go to the shops. It was a fairly pleasant day to start with and improved all afternoon, for a change. I was almost tempted to take a detour into St Mo's on the way, but that would mean leaving Scamp to carry the heavy shopping home, besides I was fairly sure I'd a couple of shots in the bag.
We weren't long home when there was a knock at the door and a woman handed me a parcel addressed to me. At first I thought Scamp had ordered something for my Christmas and forgotten to warn me, but she said no. Then she said that it would be my pan! Yes, I'd forgotten my pan. I ordered a cast aluminium non-stick griddle pan a week or so ago and this was indeed it. It's a solid piece of metal and I got the chance to try it out tonight to cook my two venison burgers for dinner. Scamp was making crumbled curried cauliflower bhajis and we were sharing potato wedges to go with both our mains. She'd also made coconut pyramids. I know that's not the correct name for them. It's basically desiccated coconut, sugar and eggs made into little balls and baked in the oven. We usually get them at the Christmas Market in George Square in Glasgow, but of course, not this year.
The pan cooked the venison burgers perfectly. The first lot of Scamp's coconut pyramids were a bit light coloured. The second lot were a bit darker. I liked the first lot, she preferred the well fired ones. The cauliflower bhajis were too spicy and the potato wedges just disappeared as soon as they hit the plate. A good dinner.
Watched Strictly which was dull. So was the final qualifier for the final race of the F1 GP season.
Tomorrow looks wet, so we might not get out for a walk.