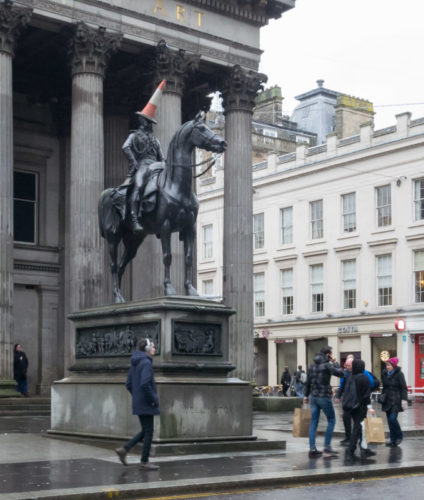 No home cooking for us today!
We were going to Larky to Crawford and Nancy's for dinner tonight, but that wasn't until about 7pm so the rest of the day was free for us to rampage through. We decided to go in to Glasgow to have lunch and for me to try to get the Burnt Umber paint I'd failed to get the other day. The weather was a bit wild with strong winds and heavy rain and it was forecast to get even wilder as the day progressed.
First stop was lunch, a light lunch we'd agreed, in Paesano. It was a fairly light lunch and as we weren't going to be eating tonight until about 8pm, a pizza in the middle of the day wasn't going to hurt. I certainly didn't disappoint.
From there we parted company and while I went to get the paint, Scamp went to M&S to buy stuff. I bought another half pan marked Burnt Umber, it's a dark brown 'earth' colour by the way, but this time after I'd bought it I immediately opened it in the shop and showed it to the girl who had served me. The actual pan was marked Burnt Sienna. This is Windsor & Newton colour. Not cheap and supposedly professional quality. I showed it to the assistant. She called the manager who went to test the actual colour. She came back and agreed that the colour in the pan was Burnt Sienna which is a much lighter orange-brown. She opened another sealed packet that was marked Burnt Umber and it too was marked Burnt Sienna on the actual pan. The last one in the rack was opened and it was marked Burnt Umber! Result!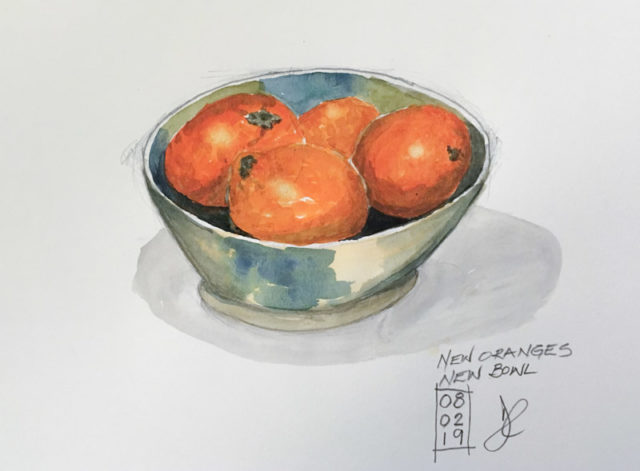 Met Scamp and went for a coffee then we headed up past the GOMA where today's PoD came from then home through the gathering Storm Erik. I started my sketch of the day which was oranges, new oranges, the last lot having been consumed, in an elegant bowl with lovely swirling colours. Just to be sure, I tested the Burnt Umber, checked and it did say Burnt Umber on the pan and painted a swatch only to find it was another bloody Burnt Sienna. No point going back to the shop. This time I'm writing to W&N to query their quality control.
PoD done. Sketch done. Both posted and on time, but no time left to blog. As you'll have guessed it was written on Saturday.
June arrived bang on 7pm without Iain who wasn't feeling well. Off we went for an entertaining night with C&N. Food and conversation was great and sitting in front of their log burning stove was just lovely. Great night. Couldn't believe when I looked at the clock and it was just before 11.30. Home through the storm, dropped June off and home for a dram before bedtime.
Tomorrow (Today 😉 we would go out to lunch somewhere.
Spoiler Alert: We did!