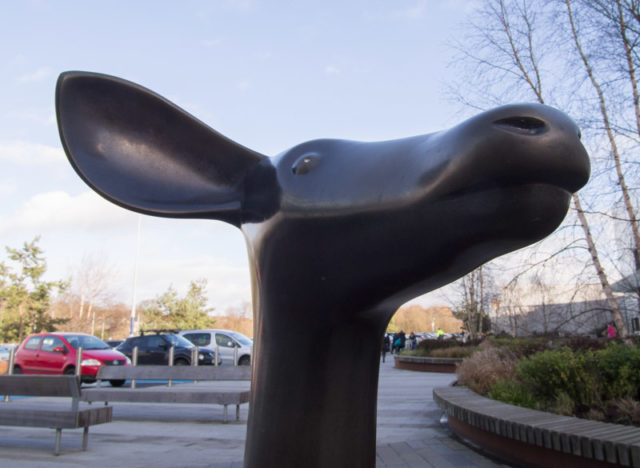 Early to bed, early to rise makes a man healthy, wealthy and wise. So going to bed late, very late for some makes you the opposite? Yeah, that sounds about right.
Didn't break the surface until well after 9am this morning. I consoled myself with the thought that I must have needed the rest, then after breakfast I fell back asleep. Finally got up and Scamp suggested lunch at Wagamama in The Fort. The Fort used to be a dump, but now that they've tidied it up, installed a coffee shop (unfortunately a Costa!) and a bookshop, not to mention Wagamama, it's not at all bad. Yes Scamp, good call, we'll go to Easterhouse for lunch. Bet you never thought I'd say that forty odd years ago!
Drove there and for once we got parked without a problem, unlike back at the house where it seemed that somebody was designing a slalom on the street with cars, vans and even lorries apparently abandoned everywhere. Wandered round the shops and bought some stuff that we both needed / wanted, then went to Wagamama which was jumping! Saturdays, the days when the working people go out shopping. Food took a little time to come, but it was busy. Scamp's was not very hot, so she complained, she's getting good at that, and got it replaced. It was a Raisukaree Curry and it looked and tasted lovely. I had a Chicken and Prawn Teppenyaki and although it was a bit dry, which was my fault for not checking, it was very tasty. Would I have it again? Probably not. I'd probably opt for my favourite Ramen, almost any flavour would do!
When we came out I grabbed today's PoD which is the head of a bronze deer sculpture by Lucy Casson. There is a little group of them outside the restaurant. Then we went our different ways. Me to Hobbycraft to be shocked at the price they were asking for tubes of watercolour. Eight quid for the smallest tube? Luckily I've got plenty to keep me going. Scamp went looking for clothes. We met back at the car, both of us empty handed.
Drove to Morrisons to get 'messages' and the makings of pakora tonight, and that was it for the tour of The Fort. Storm Erik was still blustering around trying desperately to sound like the promised tornado, but not fooling anyone. Drove home watching the changing light on the hills caused by the clouds being ripped apart by the wind. Very pretty.
Attempted to make pakora tonight, but it wasn't a glowing success. Couldn't remember how to get the batter to the right consistency and as Scamp kept saying, there was something missing from the filling. Still not sure what it was. All we have now it dirty oil. It looks like somebody's changed the oil in an old car. Need to find somewhere to dump it now.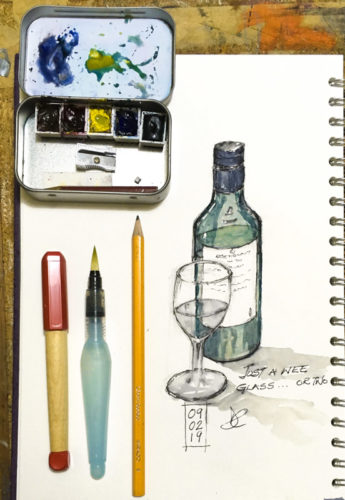 Tonight's sketch was done while watching a quite interesting documentary about Bowie. All these old blokes who used to be youngsters in the Spiders From Mars. Interesting part was listening to how they created the backing tracks with ancient technology.
Tomorrow we're back to normal rising time hopefully and may go dancing later.