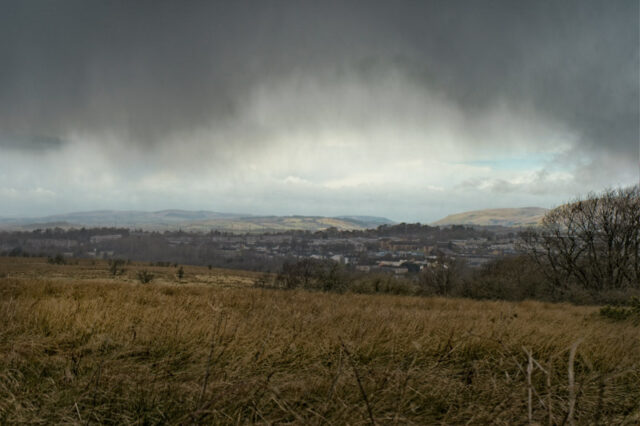 The sun was shining when we woke. It seemed a shame to waste it.
So, we didn't. We got up and had breakfast downstairs. The day had begun. I'd said to Scamp the other day that I thought we might have a walk up at Palacerigg, known to everyone I know as Pally Rig. That became our destination for the day. As soon as we left the house the rain started and the sun disappeared, but we weren't going to let that deter us. We drove up to the car park which serves as a place for golfers and walkers to leave their cars. Golfers on one side of the car park and walkers on the other.
The park itself looks quite neat and tidy now, but that's because there are no animals there now. There used to be falcons, wildcats, pigs and goats. Also, unbelievably there were foxes, wolves and bison. Now there are only a few mallards in the pond and a couple of Muskovy Ducks. I felt quite sorry for them all swimming in a mucky pond. This is what happens when you let the witless council take over the running of a profitable country park.
We left the sad little 'used to be' animal zoo and walked through the golf course taking care to look left and right when we crossing the playing areas. There were a few golfers out today, but how they managed to play in a westerly gale I don't know. It couldn't have been a very comfortable game, but perhaps it was the challenge that spurred them on. We walk further into the wilder areas of the park, away from the manicured grass of the golf course. We've lived in Cumbersheugh for over thirty years and neither of us have ever walked these paths. We've bemoaned the lack of places to walk in North Lanarkshire, but as Scamp was saying today, it wasn't until we were (hopefully) nearing the end of Lockdown that we are discovering places like Baron's Haugh and Palacerigg.
The path had a decent surface to walk on and climbed and descended as it twisted its way through moss covered trees, so we got a fair bit of exercise. Every time we were out in the open the heavens would open. When we were in the shelter of the trees the rain would stop and occasionally there would be the hint of sunshine. We crossed a few bridges over raging torrents and saw a couple of waterfalls that would have looked even more spectacular if the sun had found a way through the trees at that point. However, they were noted for another day. After another mile or so I was convinced we were on the wrong path, but it wasn't until we saw the main road below us that we realised just how far we'd gone in the wrong direction.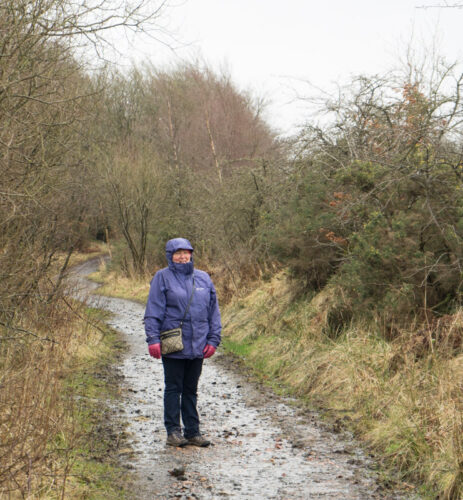 We turned back and I decided we should take a fork in the path that looked from the OS app as if it would take us back by another path. Another mucky path. The previous one had a fair bit of hardcore under our boots and signs of tyre tracks from a quad bike or something like it. The path we were on now was just a beaten track. Later we found another better path climbing back up in the direction we needed to go which was good, because we were now pretty near soaked. There is a Scottish word, 'Drookit' which means soaked. This is what a drookit Scamp looks like. At the top of this hill, and in pelting rain, I managed to get four shots of the vista below us, looking over in the general direction of Loch Lomond with the Campsie Fells on the right and the Kilpatrick Hills on the left. Above them, and us, were the black clouds that were currently soaking us, helped by a driving west wind.
We passed the model airfield on the right and went left onto what started off as a real road, wide enough for a car or van, but then it degenerated into a series of puddles joined by muddy stretches. It was here we saw two deer that ran ahead of us for a few yards, thought about about jumping the fence into the next field before running on again. Just round the next corner we found a path that took us along to the path to the car park and a chance to get our wet jackets off and sit down for a while in the dry. Back home for lunch four and a half miles of up hill and down dale and all around the trees. Good fun though.
After lunch I took a walk to the shops to get bread and also some flowers for Scamp, because it's Thursday. The view over Cumbersheugh became the PoD after some work in Lightroom and also in ON1. It's a bit gloomy, but it is Scotland.
Don't know what we're doing tomorrow but more rain is forecast.