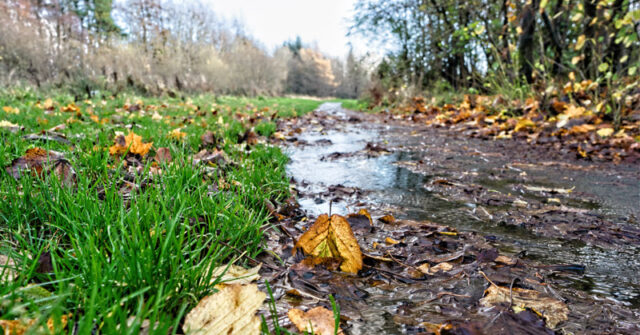 It was one of those days when you just know it's going to start raining and never stop.
Actually, the rain had started yesterday and continued unabated through the night. I felt it had rather overstayed its welcome when it was still with us this morning. We had planned to drive to The Fort today, but one look out the window convinced us that wouldn't be happening. If we were desperate for something from that curve of shops, I might have made the effort, but as neither of us were all that bothered, we decided we'd maybe go another day. Scamp had a hair appointment in the afternoon and I was making soup for tonight's dinner, so that would keep us busy.
Lunchtime came and went with the highlight being Scamp's apple pie. Not our own apples, those are well gone, but a very tasty wholemeal pastry encasing some lovely Bramley apples. I'm worried that I'm beginning to sound a bit like Nigella here! It was a lovely pie, though. Just as Scamp was leaving for the hairdressers, the sky did seem to lighten a bit. A few minutes later, shadows were appearing outside and we didn't need the room lights on. It was definitely brightening up.
Not one to pass on an invitation like that, I had my boots on and the bag on my shoulder before it would all fall apart. It didn't fall apart, the sky was clearing nicely when I walked up the path that leads to St Mo's. There was a torrent of water coming down that path and it was that torrent that became today's PoD. One in the bag. There was a wild sky with a low sun when I walked round the pond, wild enough to be the subject of a photo, not just the background and I did take quite a few. Still not altogether happy with the focusing of the 18mm Samyang lens. I may still resort to sending it back to Amazon because they have foolishly extended the returns window to January 2021. Never look a gift horse … etc.
By the time I got home, so was Scamp, sporting her new hairstyle which she said was almost exactly what she'd asked for, but she didn't like it. I didn't want to say that the difference between a bad haircut and a good one is only about two weeks. I like it, it frames her face really well. Maybe tomorrow I'll photograph her, just to prove to her that it works.
Dinner was indeed my version of Scamp's "Just Soup", served with crispy croutons, our new favourite. The pudding was another slice of Scamp's apple pie with cream. Finishing touch was two little meringues each with more cream!
It's raining again tonight, but the temperature is forecast to drop tomorrow with an overnight low of about 2ºc and remain dry all day then more rain on Friday. No plans for tomorrow, but if there's anything we need in 'non-essential shops' we'd better get it or have to wait for three weeks.
Oh yes, one more thing.  I was just heading for bed last night when I heard a buzzing, but a doppler buzzing, you know what I mean a rise and fall in the pitch of the buzz.  An insect or something flying past me.  It was a big wasp, I don't think it was a hornet, but it was a big wasp.  I didn't want to kill it, but I didn't want to wake up with a bit lump on my nose from a wasp sting either.  I managed to backhand it and trapped in on the carpet under a glass tumbler, eased a bit of cardboard under it and it was trapped.  I opened the bathroom window and helped it to fly away.  It wasn't too happy about flying off and clung to the cardboard for a while, but I managed to convince it that going would be less painful than staying.  It's now out there somewhere thinking "It's a bit chilly for June!"