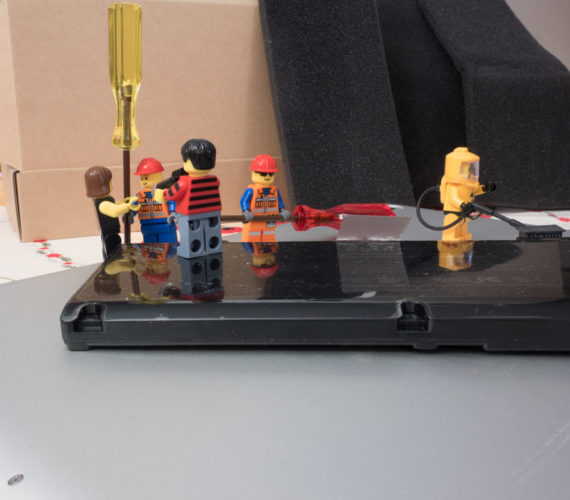 It was wet today, in fact it never stopped.
It was obvious from early today that it wouldn't be anywhere near as good as the last three or four days. We'd intended going out for lunch, but I'd ordered a new battery for the MBP and it was supposed to be delivered today. It was, but the delivery bloke didn't even knock the door, he just left the parcel in the bin shed. That said, it was absolutely tipping it down when he came, so I couldn't really blame him for not waiting at a possibly locked door.
It must have taken me at least ten minutes to disconnect the old battery, remove it, replace it with the new one and reconnect it. Then it took about two hours to charge it. The best advice I had from the 'net was to leave it charging for at least a further two hours, which I did. In the meantime I tested and tasted my bacon, haggis, pork and whisky sausages. They were good, and an interesting taste. That's as much as I'm saying just now. Had some of Hazy's Columbian coffee too. It was much sharper and more bitter than my usual drink but, again, worth trying a second or third cup tomorrow.
After lunch we decided we'd eat in tonight and Fish Curry was on the menu. It should really be Egg Curry, but if you substitute fish for eggs it works equally well. It's really a dhal with a lot of red lentils in it and also some coconut milk. We've been making it for years. It originated from a recipe book we bought in Woolworths. Remember them? I drove up to Tesco to try to post some of the calendars, but the post office closed at 12.30 and it was now past 2.30, so I missed it by a mile. Came home with rice for the curry and a couple of bottles of alcoholic beverages.
Time for laptop phase 2. Unplugged it and it started. The guide said to run it until it shut down. That took just over four hours, during which time we made the curry and ate half of it, leaving the remainder for tomorrow's dinner (it was still raining by the way). We also watched an hilarious episode of Bake Off with The Derry Girls. Not something I'd have considered funny, but it just worked.
The laptop is now on phase 3 of its calibration cycle. It's switched off and will remain switched off for at least five hours. That means it should be switched on about 2am. That's where the "at least" factor kicks in. It may get switched on around 9am tomorrow, but not before.
Scamp and I had fun trying to fill a beanbag with polystyrene beads (does that make it a beadbag?). Eventually these beads with minds of their own were safely ensconced in their little bag and sewn in. I used it to prop up the camera which produced tonight's PoD which is the Weemen 'helping' to swap out the new battery for the old one.
Tomorrow, on paper, looks better than today, but that wouldn't be difficult. We'll wait and see. No definite plans.