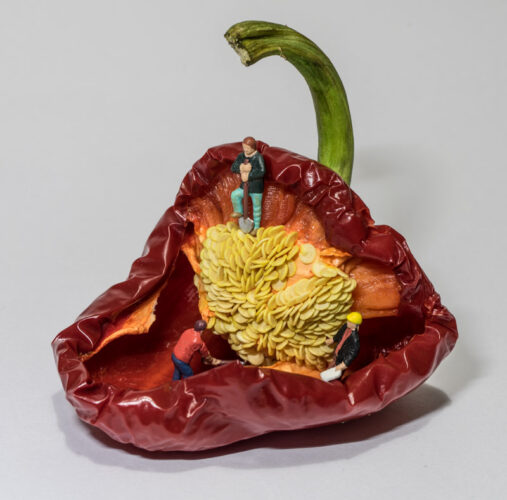 Boxing Day, and it rained all day from early in the morning until late at night with gale force winds thrown into the mix. Also, all of mainland Scotland moved into Level 4. Lockdown returns.
I made a loaf using the last of the yeast I bought online during the first lockdown. It's lasted well and I was smart enough to buy some more from Tesco last month. For once I hand kneaded the dough in preparation for making the bread from JIC and Sim's present. I must admit that although it took a long time to prove, it tastes very nice indeed.
I'd planned today's PoD because I knew it would be very unlikely I'd get out to get an outdoors shot, but I changed it a little to add a little bit of interest. Originally I was going to do a monochrome shot of a red pepper that was more wrinkled than I am, but in the end I just couldn't get enough detail into it. That's why I co-opted the MiniMen to brighten it up. Smaller than minifigs and mostly men, so they became 'MiniMen'. They are actually '00' gauge figures for model railway dioramas, but they walk and climb and stand in many incongruous situations for my photos. After 20 odd shots I had a winner, or to be more precise, I had something I could make into an acceptable PoD.
Besides baking and photography, I also did a bit of Indian cookery. I made some cauliflower pakora and to go with it, some onion bhajis. I won't say it was my best effort and it did make the kitchen smell like a chip shop, but they seemed to go down well with Scamp. Also, they became 'dinner'. We'll maybe have the turkey tomorrow.
Oh yes, and although I didn't manage to do the ascending and descending of the stairs, we did go through some dances tonight.  Jive, Salsa, Quickstep, Waltz and Sequence.  Well, we had to do something to begin to work off all that food and drink we'd consumed yesterday and it also helped fix a couple of the sequence dances in my head.
Tomorrow the weather looks to be becoming more wintry with snow and ice forecast. If it means we don't get today's rain and wind I'll be happy. We might even get out for a seasonal walk.