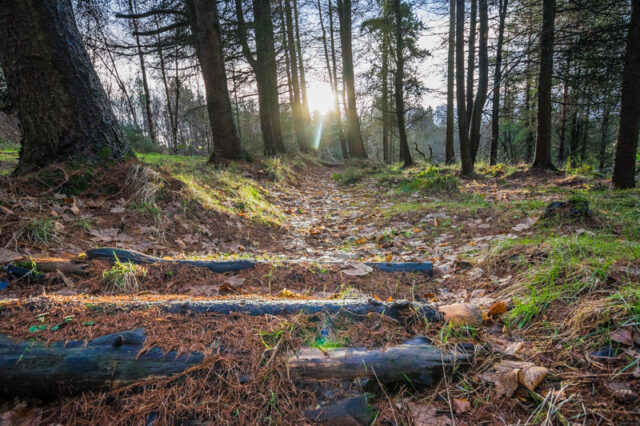 Just a little scraping of snow, but it's there.
It must have arrived during the night, but thankfully the tanker that brought it must have been almost empty, because there was so little there. We expected more to arrive during the day, but were disappointed, although there were some who rejoiced in the fact that the paths would be clear of the white stuff.
We didn't do all that much today. I did finally put on my boots and take a camera with a couple of lenses out to St Mo's in the afternoon. One of the lenses I took was my favourite wide angle Sigma 10-20mm. It works really well with the adapter. It focuses and responds to aperture adjustments. I realise this means nothing to most folk, but I've always liked this lens. It's big and heavy and was expensive when I bought it, but it produces great images. Thanks to a fairly cheap adapter it still produces them. The Sony recognises its firmware and crops the frame to an APS-C size. It's a pity it doesn't fill the full frame, but there's nothing I can do about that. I'm just delighted it still takes great photos. It was the lens that took PoD which was in the woods behind the pond at St Mo's. Behind me was a clutter of broken Bucky bottles, beer cans and deodorant cans that allegedly some people sniff for a cheap high that has the benefit of making you a nicely perfumed corpse.
Back home, Scamp was making a trifle with pieces of Pandoro which is Italian Christmas cake. Very light and fluffy and usually dusted with icing sugar. Today it formed the base of a beautiful trifle. It was Turkey Casserole for dinner, but it wasn't the best turkey in the flock I think. Nothing to do with the cooking, it appears from a few complaints that Tesco wasn't the best place for turkeys this year. I suppose you could say it WAS the turkey!
Tonight we played Tin Pin Bowls, so called because all the component parts fitted neatly into a small tin. Scamp won, but I think she cheated. After her resounding win we made origami Christmas Trees, and then origami Penguins. Another of her impressive Christmas Prezzies. Great fun was had by both. The penguins actually looked fairly realistic, when viewed at the correct angle … and from a distance!
Tomorrow we may move on to more advanced origami and after a couple of bowling lessons I might manage to get a strike. It's forecast for more snow.