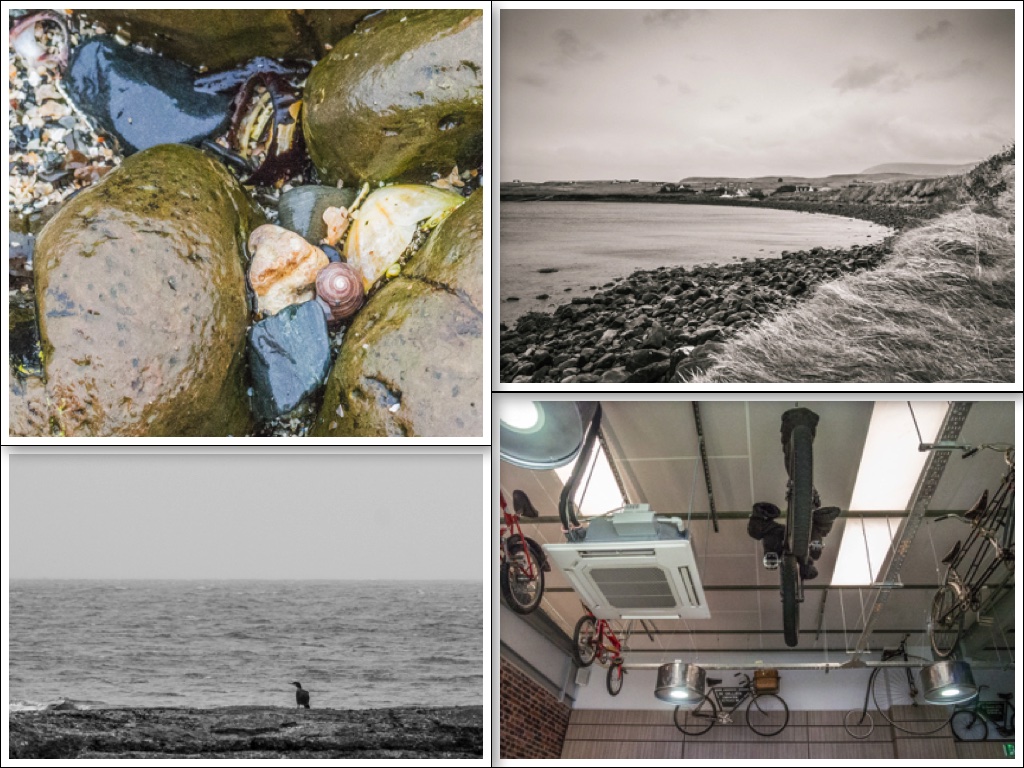 I was tardy this morning, very tardy.  I woke just before 8am and the next thing I knew was when Scamp gave me a prod and asked if I was GETTING UP!
After breakfast we drove to Portree to post a postcard to one of our friends.  After that we went to Jans Vans for lunch.  It was Scamp who noticed that it was predominately locals who were sitting in the cafe.  If it wasn't for Jac1 telling us about it we wouldn't have considered it and after yesterday's upset stomach, which I must lay at Café Arriba's door, it was brilliant by comparison.  Just a simple sausage, egg and bacon with toast and tea for a decent price.  The best thing is the decoration.  It's bike porn.  Not like the last definition of Bike Porn, just unusual cafe decoration.
Left Jans Vans and headed up to the north of the island again and this time we were looking to follow in Jac2's footsteps and go to Camas Mòr.  Scamp told me we'd been there before and I remembered the ruined church when we came off the main road.  It looked a bit creepy the last time I went there, probably around 15 years ago and it didn't look any more welcoming today.  I remembered that Murd didn't say much about it and if he hasn't got a funny story to tell you about something, then there's a reason for that.
Further on we reached the shore and sat there beside one other car in the car park watching the waves crashing on the far shore.  I did eventually decide to face the elements and take some photos.  That's what contributes to most of today's mosaic.  It wasn't very comfortable with rain being driven over the bay on a gusty wind, but that's what makes a 365 (or a 366 this year) so interesting.  You just have to go out there and get the photos taken.  After that one of the locals wanted access to the slip and we were in the way, so that was as good an excuse as any to head back to Staffin.
I'd half intended going back out to the slip to see if I could get any more photos, but the wind and the rain made me think twice.  I eventually decided that I'd forego the pleasure of taking photos on that great place for the comfort of a coal fire in the sitting room.  I think it's the sight and sound of coal fires as much as the heat that attracts me.  Yes, I know that they are a nuisance to clean out and prepare, but they are so welcoming.  So much more welcoming than central heating with all the benefits of the modern equivalent.  I'd love a coal fire again.  I haven't lived in a house with one for over 30 years and still I hanker for one.  I'll just have to be satisfied with borrowing one for a few days in Skye.
Until the next time, goodbye to this island.  Homeward bound tomorrow.