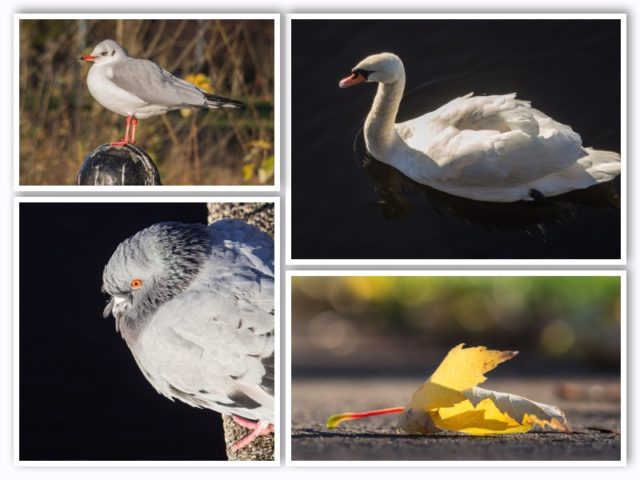 Scamp suggested that we should go for a walk this morning and offered to drive. How could I refuse?
She chose Glasgow Green as the venue and I was up for that. We usually go down the green on a Sunday morning, so it was a bit different to be driven there on a weekday. It was cold, but not uncomfortably so and we walked out to the McLennan Arch and then round past the rowing club boathouse to the viewing gallery over the Clyde. It was there I found the puffed up pigeon, the young gull and the swan. We walked on to the suspension bridge and then out to where there used to be a footbridge over the river to Richmond Park. The bridge has now been demolished but the piers still stand. Maybe they'll build a new bridge (Aye Right!) Maybe they will, to celebrate the next millennium! We walked a bit further on and that's where today's PoD was created. Just a leaf with angled sunlight. I liked it right away. That was as far as we walked. Turned and walked back to the People's Palace. On the way there we passed a group of school pupils on bikes being shown the basics of mountain biking by what I presume was their PE teacher. A good way to spend an hour or so learning a decent skill set that they can actually use. So much better than 'book learning'. Good for you Mr Teacher, I applaud you. Coffee in the wintergarden cafe, but no Roll 'n' Sausage or toast, and then home.
Spoke to Hazy for half an hour or so after lunch and then Scamp decided she wanted to go in to Glasgow on some undisclosed sortie. So many 'under the radar' trips just before Christmas every year. I think that's why I like it so much. It's the subterfuge that makes it interesting. My own plans haven't really been firmed up yet, but when they do, I'll participate in the "I'm just going in to Glasgow", "No, it's alright I'll probably just go myself" sort of Secret Squirrel stuff.
I drove Scamp to the station and then I had time to download this morning's photos and have a look through them before I got the text to say that she was coming home on the X3. Time to make the risotto for dinner and then salsa. Salsa was quite interesting, but the class is reducing in numbers again and I felt that Jamie Gal was playing for time a bit.
It's cold again tonight, 1.4ºc but it's forecast to get warmer again from tomorrow night. I'm going to be the 'roadie' tomorrow when Gems play their second gig in a week before the Christmas break. Other than that I'm a free agent!