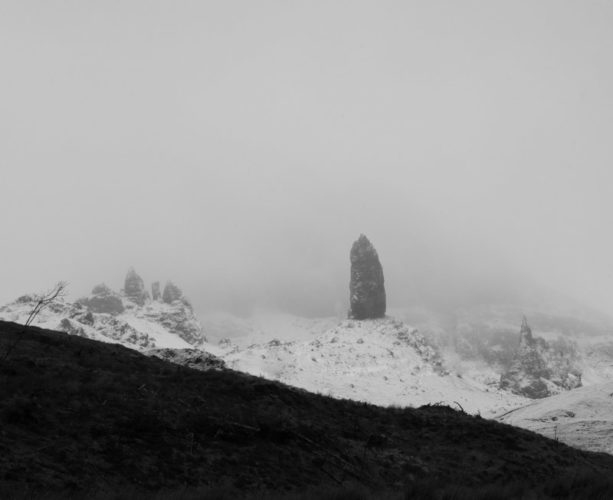 Set off around 9.30 for the long drive back home. It wasn't looking like it would be a pleasant drive and it lived up to that estimate. Driving down through Skye was ok with the snow keeping mostly to the mountains and higher hills. I managed to grab a shot of the Old Man of Storr just emerging from a blizzard. That became the PoD.
Carried on down to the biscuit tin also know as Eilean Donan castle at Dornie and stopped there for a coffee and a scone each. Suitably refreshed and after I'd had a quick look at some of the paintings for sale in the shop, we got on our way again. The weather worsened quite a bit and when we passed Loch Cluanie it was down to minimal visibility and the snow was beginning to lie on the road. I expected worse would be to come when we made the turn off to climb up to the Glen Garry viewpoint because the road is very exposed. I needn't have worried because the snow clouds didn't break and we had a fairly easy run over to Invergarry. From there it was on and off sleet and rain all the way down to Fort Billy where we stopped for lunch.
Refuelled at Fort Billy (oh how I wish the Juke had a proper petrol tank) and set off for Glencoe. Glencoe itself was fine, but when we got up onto Rannoch Moor the snow started again in earnest and we joined a conga line of cars battling down the road. The snow and sleet stayed with us all way down to Crianlarich and eventually faded out, leaving us free to drive down to Stirling and the welcome wide lanes of the M9. We had had a blue van following us all the way from Fort Billy. He/she seemed in no hurry to pass us and we kept a steady pace all the way. Just before they turned off the M9 heading for Embra they flashed their headlights and I gave them a wave. Hope they got home safe.
The rest of the journey was thankfully boring and pedestrian compared with the highlands. Enjoyed the time with Jac & Murdo, but it was good to be home.
Tomorrow? Gems and Salsa that's about it.