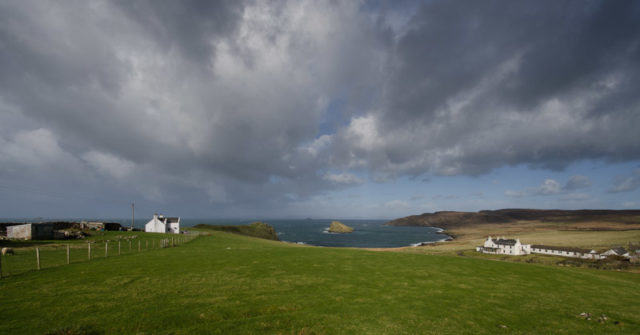 Ah, this was more like it. Today we'd drive round the top.
Bright sunshine with just the prospect of a few showers too to keep us honest. Drove down the drive and turned left. Found this interesting PoD at Duntulm. Taken with a wide angle lens it almost looks like a panorama. The light was kind to us me for once and showed up the textures nicely. It also shows the remoteness of the landscape. I was looking for a new road to travel, but couldn't find one that looked interesting, so we just continued to Uig, but when we got there the weather closed in again and we didn't stop. We just continued on our way round to Portree.
We'd seen Portree yesterday and I doubted that there was much more to hold our interest, so after getting some fuel we drove down to Slighachan then on to the Fairy Pools on the Glenbrittle road. Unfortunately the brand new carpark looked full and at £5 flat fee was a bit expensive for what it was. We turned and drove back to Portree where we had lunch in Aros. For once I had a decent toast there. Bacon and Mushroom. I must remember that if we're ever there again. Usually everything is slathered in heavy, oily cheese but this was just what the description said. Coffee was great too – it always is. Scamp wasn't so impressed with her Tuna melt which seemed to be more melt than tuna. Such a pity after mine being so good.
Drove back to Staffin and went for another dancing practise. This time we filmed it to see how we looked when we were dancing. Learned a lot, especially that our posture isn't as good as we thought. Also we must remember to look forward or to the side, not at our feet. We even entertained Jackie and Mairi with our waltz steps. They were kind enough not to laugh!
Scamp went back with Jackie and I drove down to the slip to get some moody sea shots. Couldn't quite manage to find the right subjects. Saw this woman laying out what looked like a rolled up canvas on the ground behind the boat sheds and holding it down with rocks. Later I found out she is the Dutch landowner. At least that's what Jackie and Murdo think after hearing my description of her. Finally got some shots from the 'beach' and I might, just might have seen the famous dinosaur's footprints.
Home for dinner and to prepare for tomorrow's journey back down the road.