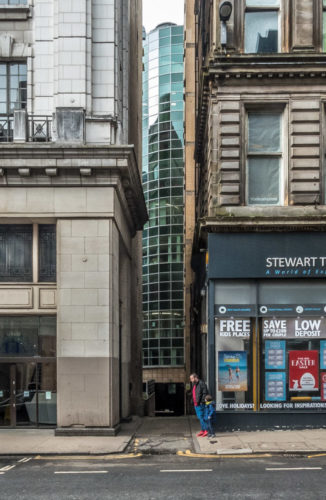 It was the month that stated with roads closed by incessant snowfalls and the challenge of digging the car out of a snowdrift to get to the airport to go on holiday and it ends today with cold winds, rain and the threat of more snow. And they say this is British SUMMER Time?
We took the bus in to Glasgow today. We were going for lunch and nothing else, because it was a dull cold old day. After a walk up Sausage Roll Street to view the damage the fire had wrought last week (and it was extensive), we walked down to St Enoch's to get the subway out to Kelvinbridge and thence to Paesano on Gt Western Road. Scamp found her (near) ideal pizza in a Tomato sugo (sauce) with garlic, oregano and evoo (extra virgin olive oil) with an extra of rocket. It would have been ideal without the garlic I'm told. Next time, Scamp. Next time. I had a number 4 which is Spianata spicy salami with tomato sugo, mozzarella and evoo. I found the salami too spicy and the waiter suggested that next time I should have a number 7 which is Fresh Tuscan fennel sausage with friarielli (Neapolitan wild broccoli) mozzarella and evoo. Notice there is no tomato sugo, so I just have to ask for that as an extra. I'll try to remember that recommendation.
Lunch over we walked up a cold and breezy Gt Western Road and Scamp found a fish shop where she could stock up the freezer a bit with fishy stuff. From there we'd intended going for a drink in Òran Mór but it was too cold and we just got the underground back to Bucky Street and then the bus home.
Scoffed the other half of a bag of chocolaty things tonight with some gin to wash them down and watched La La Land. Scamp thought it was just so so, I thought it was really good apart from John Legend trying to act. Stick to the day job John.
Today's PoD was 'Red Shoes' seen in Renfield Street. Actually I was photographing the glass tower building through the narrow lane. The man with the red shoes was just a lucky!
My other 'lucky' was the one below.  Saw it when we were walking home from the bus stop.  It was the writing on the bag that caught my eye, well, that and the 'Bucky' bottle.  I think that's called Irony.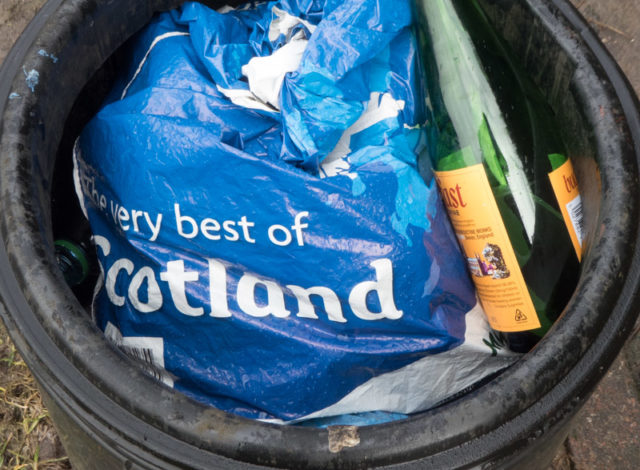 No plans for tomorrow. Just hoping for a better (warmer and brighter) day than today.