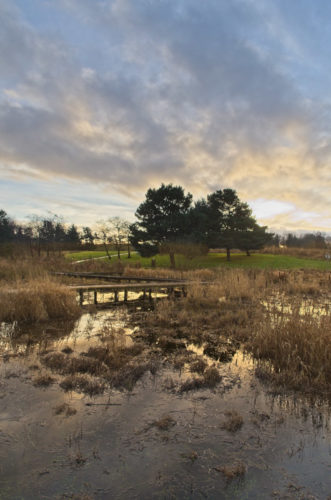 Yes, it was Sunday, so why did it feel like Saturday?
Well, the simple answer is because Saturday felt like a Friday and therefore it was logical that Sunday would feel like Saturday. OK?
With that in mind, we set of on to visit Stirling, pretending that it was Saturday. One of the benefits of visiting Stirling on a Sunday is that there is no charge for parking. That saved us a whole £1.40! We walked to Waitrose and bought the whole shop, then packed it carefully into the Juke's boot and drove home.
By the time we got home there was just enough light to allow me to go a walk over to St Mo's to grab a few shots with "The Big Dog", i.e. the Nikon. Low light means you need a bigger sensor to grab as many of those photons as possible without resorting to a higher ISO. Bigger sensors mean less digital noise, sometimes called grain. Smaller grains means smoother images. I could have put a <Technospeak> warning there, but I just thought some of you deserved a bit of a photographic education. So now you know that to get smoother gradations you need a lower ISO and if possible a bigger sensor. There, quote that and you'll sound so much cleverer! Got the photos and took them home to look at more closely on the 'puter.
Earlier in the day, even before we'd gone out to buy Waitrose, we'd spoke to Hazy who updated us on all the things going on down London way. It's nice to know that other folk are suffering from dull weather too. It's not just us.
After perusing today's photos and settling on a PoD, a moody shot across the boardwalk at St Mo's, I started to make the dinner which was a vegan Spag Bol. I've made it before but today's effort seemed a bit bland. Too many mushrooms or too little salt? Not sure. Scamp said it was fine, so maybe just me.
Sat down to watch the final of The Apprentice. I won't spoil it for you, but I will tell you that it was one of the girls! Halfway through JIC which was a godsend really as two hours of TA without a break is more of a marathon than Mo Farah could withstand. Spoke for half an hour or so and got up to date on all the things going on down Cambridge way.
Finally watched the end of the epic journey to be Sugar's next business partner. Slightly less interesting than a boring F1 GP.
Tomorrow will probably be a Monday. Let's hope it stays that way.